The Shakespeare Programme was set up to promote the study of Shakespeare in Lancaster. Its current activities include research on Shakespearean texts as part of early modern surfaces project and the performance, ceremony and ritual project, and work on Shakespeare's language via the Corpus Research in Early Modern English group. It also aims to foster links with Lancaster Castle, with theatres and schools (including a formal link with Solihull Sixth Form's 'Shakespeare Academy') and with members of the public.
Collaboration with the Castle and northern theatres began in 2012 as part of the British Shakespeare Association conference Shakespeare Inside Out: Depth / Surface / Meaning, hosted by Lancaster University
A follow up 2014  Lancaster Season of Shakespeare including shows, films and events at the Dukes Theatre, workshops for schools, and productions of Othelo, Taming of the Shrew and Rose Company's all female Shakespeare I Have a Speech of Fire in Lancaster Castle. Full details and booking can be accessed from the menu at the top of this page.
Undergraduates and postgraduates studying in the Department are encouraged to engage with these events. The Shakespeare Programme also supports extra curricular activities like theatre visits, workshops and a reading group for students (see events).
On 21 February final year students workshopped Act 3 Scene 1 of Measure for Measure in one of the oldest dungeons at Lancaster Castle.
Duke Vincentio's line 'Be absolute for death' had a chilling resonance when spoken in the cell from which so many people had been led to execution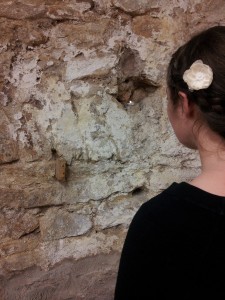 The next Castle workshop on Macbeth was eld on Tuesday, 25 February at which students worked in both the dungeon and in 'A Wing' of the prison.
Once more unto the breach dear friends…..
Visit to Stratford to see Richard II and Titus Andronicus (23rd October 2013)