October 26, 2021
Engaged research – who benefits….and at what cost?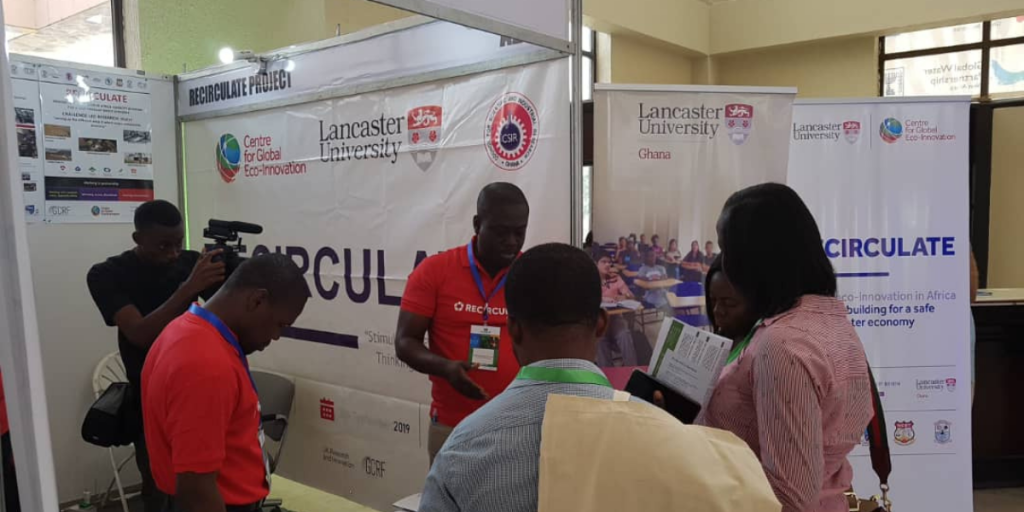 Dr Priscilla Otuo, a RECIRCULATE Researcher at Lancaster University Ghana, reflects on the challenges of engaged research.
In the past few years, calls for business and management scholars to engage in academia-community exchanges are increasing. The value of researchers and scholars working with, in and for their communities is clear, but what about the challenges that engaged research pose for business and management scholars?
On the 3rd of September 2021, the British Academy of Management (BAM) organised a virtual panel discussion on engaged research. The discussion was part of the planned activities for the 2021 BAM Virtual Conference hosted by Lancaster University, UK. The objective of the workshop was to highlight the role of business and management scholars in engaged research and to discuss further the challenges and opportunities of engaged research.  Professor Lola Dada from RECIRCULATE's Entrepreneurship and Innovation Work Package and I took part in the panel discussion.
During the discussion, the panellists, including Lola and I, provided interesting insights into engaged research.  Indeed engagement is the basic foundation upon which RECIRCULATE was developed.  The primary reason for RECIRCULATE's substantial engagement component is that it is a challenge-led and solution-driven project that seeks to drive sustainable water use in Africa. Given this, the success of the project highly depends on partnerships between researchers on the project and relevant actors within the circular economy, including policy makers, private practitioners, SMEs, community leaders, indigenous experts and entrepreneurs.
The panellists' and participants' contributions to the BAM discussion reiterated the importance of engaged research to academic institutions, researchers and local communities.  Lola and I were keen to share our thoughts on the several benefits of engaged research.  Indeed one of the key achievements of RECIRCULATE is that through these deep engagements, we have successfully co-created a multicultural network that provides mentoring, coaching and training support to emerging female leaders across Africa. Local communities we have engaged with have also benefited from our engagement efforts.  For example, residents of two communities in Ghana, West Africa have benefited from a weather station and a biogas demonstrator through the coordinated efforts of researchers on RECIRCULATE and sister project, ACTUATE, that is specifically designed to translate research in to practice in local communities. Further, our experience is that engaged research enables scholars to adopt a holistic approach to solving societal approaches and to make real world impact.  Thus, through co-creation and co-development of sustainable solutions, researchers are able to draw strength from local communities to solve global challenges. For instance, community leaders involved right from the start of our RECIRCULATE research projects become the key agents of behaviour change within their communities.
Despite these undoubted benefits of engaged research, the BAM panel posed one important and pressing question that still lingers in my mind. As an early career researcher looking to develop a career in Africa or the UK, I can't help wondering whether engaged research comes at a cost to business and management scholars or researchers? Unfortunately, listening to contributions from panellists and participants revealed that current institutional arrangements and structures within many academic institutions do not encourage academia-community exchanges. That may differ between institutions or countries but a consistent message was that in many academic institutions most business and management scholars' time is dedicated to teaching activities and/or "traditional" academic research leading to journal publications. That leaves scholars with little time to undertake engagement activities. Even if they do find time, I can't help wondering whether, despite all the talk about the importance of engaging with communities, that gets very little consideration during promotions. I may be wrong, but what I hear from colleagues from across RECIRCULATE, and not just from business and management scholars, is that, when it comes to things like promotion, the recognition given to scholars' academic-community interactions is not commensurate with the efforts the individual needs to commit to such activities. To sum it up, when it comes to supporting engaged research, do too many institutions fail to match their words with real action?
As I pondered these concerns after the panel discussion ended, a lot came to mind.  I looked back and reflected on some of my past engagements during RECIRCULATE. Through the project, I have engaged with the Young Water Professionals in South Africa, Zambian Chamber of Mines, the UK Knowledge Transfer Network, and Ghanaian market queens (female market leaders in Ghanaian marketplaces) and conference participants at the 2019 West Africa Clean Energy and Environment (WACEE) Conference. One thing that was consistent across all of these engagement activities was how little academic representation there was at most of these industry-focused conferences and events. Looking back, I wonder whether that's partly explained by the lack of incentives to engage with research users that I have discussed here?
I must admit that I count myself among the few lucky ones to work on a project that allows me time for engaged research and adequately recognises those efforts. Clearly, that informs what I am trying to achieve in this blog, which is to encourage business and management scholars not to discount the value of engaged research. However, the genuine concerns raised by the panellists and participants in the BAM conference reinforced my feeling that all institutions, wherever they are, need to fully recognise the contribution of scholars who engage with various stakeholders. I am sure that many reading this will agree in principle, but tell me that there is no easy fix to this problem and that many institutions will be reluctant to re-assess how they measure the value of different activities. In many institutions it will need a major re-assessment of how different activities are integrated in promotion criteria. I know, change is difficult, but I strongly believe that we need to change the status-quo and there is no better time to do that than now!
| | |
| --- | --- |
| | Dr Priscilla Otuois a Post-Doctoral researcher from RECIRCULATE's Entrepreneurship and Innovation Work Package.  She obtained both her B.Sc. (Hons) degree in Business Administration and MPhil in Marketing from the University of Ghana, and her PhD from the University of Hull, UK. Priscilla takes keen interest in African entrepreneurship and is passionate about supporting it through applied research and capacity building activities. Her current research contributions are centred on issues regarding the optimum "ecosystem" for African research institutions to work with, in and for their communities. |
All articles in The FLOW are published under a Creative Commons — Attribution/No derivatives license, for details please read the RECIRCULATE re-publishing guidelines.