August 2, 2021
Spotlight interview – Jackson Phiri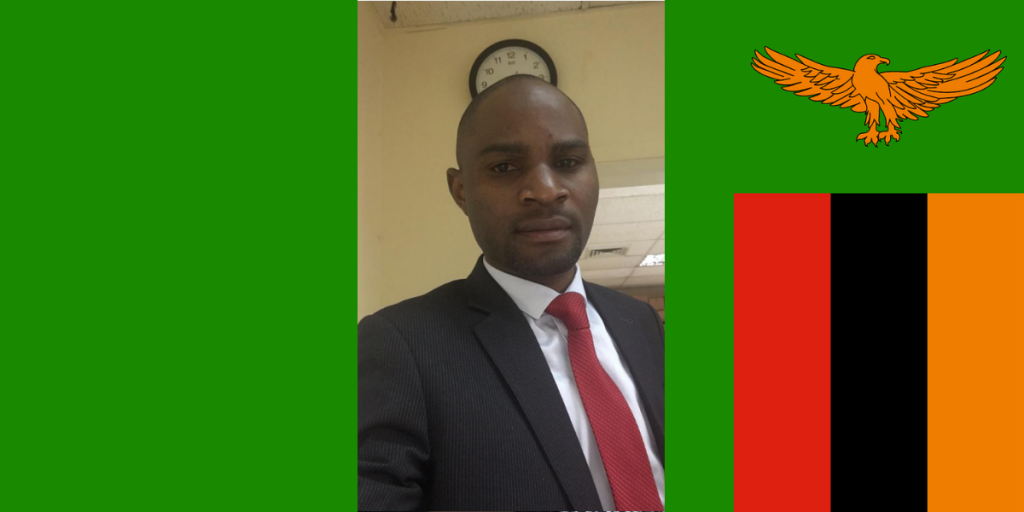 Jackson Phiri is a fellow member of the Association of Chartered Certified Accountants (ACCA) and Zambia Institute of Chartered Accountants (ZICA), currently employed as a Management Accountant at The Copperbelt University (CBU).
To mark the Zambia Farmers' Day, a national public holiday observed on the first Monday in August to celebrate the contribution and work of the agricultural sector in Zambia, Dr Akanimo Odon recently interviewed Jackson to find out a little more about him, his experience with RECIRCULATE and how he celebrates Zambia Farmers' Day.
Please briefly share with us your professional history.
I am an accountant with over 17 years of working experience in both the private and the public sector. I am proficient in treasury management, financial and management accounting and audit assignments hence the ability to easily adapt to any given system.
My current role covers the preparation of timely management reports in order to provide information to aid decision making, ensure growth and long term sustainability of the institution and improve value by managing, reducing operational and investment costs by implementing the most effective cost management strategies.
How did you hear about the RECIRCULATE project and what has been your experience engaging with the project so far?
I firstly heard about the RECIRCULATE project from The Copperbelt University (CBU), the institution I work for and from its members of staff who have enjoyed an excellent relationship with RECIRCULATE and have significantly benefited from the training programmes and events organized by the project. While CBU hosted one of the training programs in 2019, I was privileged to be selected to attend the workshop in Nairobi, Kenya.
The project has widened my network of potential collaborations. Other than the physical meetings in the various training workshops such as the one in Nairobi, Kenya, the project continues to avail opportunities for learning through virtual discussion panels on various topics including agricultural developments, gender issues, innovations, entrepreneurship and business sustainability. Most of these are core to attainment of global sustainable development goals. Right now, I know that if I need to work on a project of economic development (innovation and entrepreneurship) and sustainability in nature I can always count on my connections with experts from various countries for support.
How are you celebrating or how will you be celebrating the Zambia Farmers` Day?
I have acquired  3 hectares of land last year with the intention of planting maize. As beginners, we managed to harvest about eighty-five 50kg bags. I have therefore planned to spend this day at the farm with my family and close friends to mark the beginning of a farming life. A few drinks and barbeque have been organized.
In your opinion, why is it particularly important in Zambia to celebrate the contribution and work of the agricultural sector?
In my opinion, it is cardinal to celebrate the contribution and work of the agricultural sector as it is a second contributor to our (the Zambian) economy after the mining sector. This is also the sector that produces our staple food. The government has placed importance and emphasis on growing this sector as a way of boosting the economy.
What would you say are the two biggest challenges you face in Zambia in your line of work?
As a farmer, I would say lack of technology to improve processes while, as accountant, I would say maintaining an adequately liquid institution in a competitive world is a challenge.
Are there opportunities you think can be explored bearing in mind these challenges you highlighted?
Lack of technology – there is need to upgrade and invest in new technological approaches such as solar energy as a means of providing energy for irrigation in farming. With this in place, agriculture could indeed be improving and building our economy.
Speaking as an accountant in an education institution that needs to remain competitive and sustainable for the purpose of contributing to the desirable human capital in the country and worldwide, thinking outside the traditional means of income generation is key. This scenario coupled with connections, especially through RECIRCULATE, provides an opportunity for innovations, collaborations and entrepreneurial minds to rise to the occasion.
Any final thoughts about your country Zambia?
Zambia, as a country that has embarked on making agriculture a way of revamping its economy, can do well to invest in modern and improved ways of farming such as irrigation farming. The fact that water in Zambia accounts for 40% of its natural resource can provide an opportunity for all year round farming through irrigation farming.
Finally, let me say that Zambia enjoys peace in all aspects of life and one has to be proud of that. Going into general elections on the 12th of August 2021, one would only wish that the nation continues to enjoy this peace during and after this period.
All articles in The FLOW are published under a Creative Commons — Attribution/No derivatives license, for details please read the RECIRCULATE re-publishing guidelines.