August 2, 2021
Spotlight interview – Eric Adu-Dankwa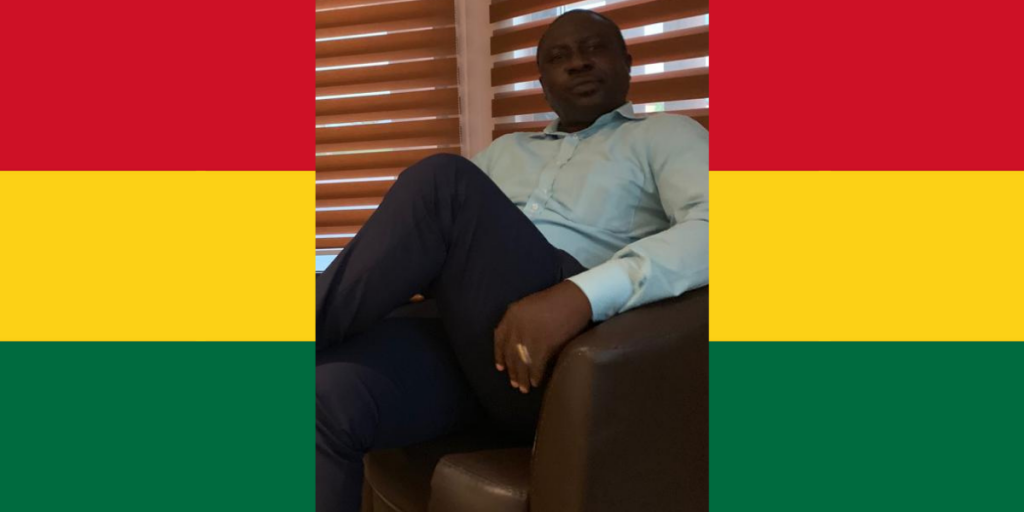 Eric Samuel Adu-Dankwa is the Director for Planning, Monitoring, Evaluation and Coordination (PME&C) at the Ghana Irrigation Development Authority (GIDA) under the Ministry of Food and Agriculture (MoFA).
To mark Ghana Founders' Day, a national public holiday observed to commemorate the contributions of all the people, notably the "Big Six" who led the struggle for Ghana's independence, Dr Akanimo Odon recently interviewed Eric to find out a little more about him, his experience with RECIRCULATE and how he celebrates Ghana Founders' Day.
Please briefly share with us your professional history.
I am an Engineer by profession affiliated to the Ghana Institution of Engineers (civil division) with qualifications in BSc (Hons) Mathematics and Physics, BSc in Geodetic Engineering and MSc in Water Resources Engineering and Management, and with 20 years of experience in the planning and implementation of irrigation projects.
I rose through the ranks from Assistant Engineer through Engineer, Senior, Principal and Deputy Director before I was appointed to my current position – Director for Planning, Monitoring, Evaluation and Coordination (PME&C). I am responsible for providing the framework for all forms of planning at my organisation as well as their coordination including strategic, tactical and operational plans ensuring that they fit into a coherent pattern for implementation to achieve our goals and objectives. Further responsibility is to develop an Irrigation Promotion Centre for innovation and business promotion.
How did you hear about the RECIRCULATE project and what has been your experience engaging with the project so far?
I firstly heard about the RECIRCULATE project through Ing. Wilson Kwabena Darkwah, my current Chief Executive. He asked me to represent him at the RECIRCULATE workshop in Accra, Ghana at a very short notice because, due to other pressing official duties, he could not honour the invitation to the workshop. He quickly made arrangement and I joined on the 3rd day of the 5-day workshop. During the workshop, the participants were asked to present proposal for 4-week residency training at Lancaster University.
I presented a proposal and I was selected to be among the lucky ones to benefit from the support. It was my first travel experience to the United Kingdom and to Lancaster. I did a lot of literature review and took part in some related laboratory activities on my research work. I still remember all the travelling and the social events, the networking and the knowledge I gained which has been of great help to me especially in my new position as a Director.
How are you celebrating or how will you be celebrating the Ghana Founders` Day?
The Ghana Founders' Day was instituted on the day (4th August) that the first political party was formed in Ghana (formally called Gold Coast) by the public holiday amendment bill. It is a national public holiday to commemorate the contributions of all the people who led the struggle to Ghana's independence, especially the "Big Six". August 4th was chosen because it marked two very important days in Ghana's history – on this day in 1897 John Mensah Sarbah formed the Aborigines' Right Protection Society and in 1947 George Alfred "Paa" Grant and J. B. Danquah formed the United Gold Coast Convention (UGCC). The day is normally celebrated with memorial lectures focused on the vision and aspirations of our forefathers in the fight for freedom from colonization. There is usually live telecast of these celebration so I will watch them at home especially at this time that Ghana is experiencing the third COVID-19 wave.
What would you say are the two biggest challenges you face in Ghana in your line of work?
The two biggest challenges we face in Ghana in agriculture and irrigation development are:
The increasing area under irrigation in Ghana and helping our farmers to adapt to climate change. The activities which can be carried out include identification of new sites, rehabilitation of existing malfunctioning schemes, formation of Water Users Associations (WUAs) on existing small schemes, and software development for efficient irrigation service charge (ISC) collection towards sustainability of the schemes and simple user-friendly water efficient automated irrigation systems to support small scale farmer-led irrigation among others.
Developing the regulatory framework for all the actors along the value chain in irrigated ecology to enhance the private sector`s participation in irrigated agriculture.
Are there opportunities you think can be explored bearing in mind these challenges you highlighted?
These challenges present various opportunities in the irrigation sub-sector of Ghana, some of which are developing and sharing concept notes on planned activities with donors and other organizations for funding support. The topography generally is suitable for small irrigation dams development especially in the northern part of the country where the rainfall pattern is unimodal and large-scale irrigation. Irrigation will ensure all year-round farming which will improve the income of the beneficiary farmers. Irrigators on existing schemes can also be trained in water management techniques to improve the water use efficiency of the irrigation schemes. The large-scale irrigation schemes in Ghana have just been rehabilitated and automated, and WUAs have formed on them to manage their service areas on the scheme. Ghana is making attempt to procure scheme management entities (SME) to manage these schemes. A lot of work needs to be done in terms of providing the necessary regulatory framework to create the enabling environment for private sector participation to ensure the sustainability of these schemes.
Any final thoughts about your country Ghana?
Ghana has the right leadership to increase or improve irrigated agriculture. Even though COVID-19 has been a threat to this project amidst low financial releases from government since most of government allocation is going into the control of the pandemic, it is committed to completing the Pwalugu Multi-Purpose Dam Project (PMDIP). This is a five-year project with three components – hydro power, solar system and irrigation, and when completed, it will add 24,000ha of irrigable land to the existing 13,000ha which has been developed since independence.
The country is generally peaceful because we are gradually maturing in our democratic governance. The Founders' Day celebration is best for the country since all those who contributed to the struggle which led to our freedom from colonialism will be recognised and commemorated. History must not be thwarted, the record must be set straight. Remember "A nation that does not honour its heroes is not worth dying for".
All articles in The FLOW are published under a Creative Commons — Attribution/No derivatives license, for details please read the RECIRCULATE re-publishing guidelines.