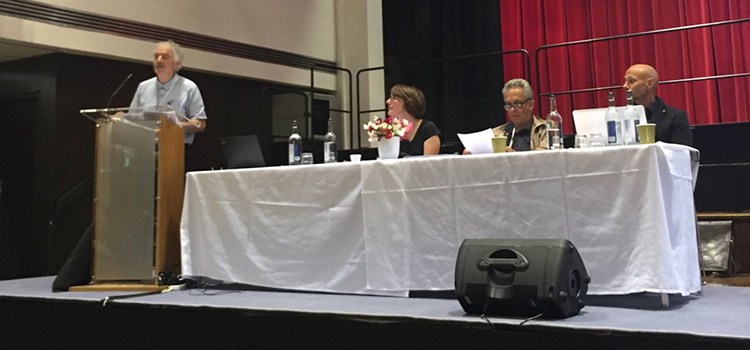 We have learned with the greatest sadness of the death of our colleague, Professor Andrew Webster. Many members of Lancaster's Centre for Science Studies knew Andrew and we feel deep sorrow at his loss. We wish to offer this appreciation of Andrew, as a prodigious scholar and an extremely generous person, adding our tribute to those of friends and colleagues.
Andrew was a sharp and insightful academic, and a kind and inspiring colleague, with a wonderful sense of humour and an incredible work ethic. After a long and impressive career devoted to building and supporting the STS community, Andrew played a key role in establishing the UK Association for Studies of Innovation, Science and Technology (AsSIST-UK). He 'retired' in 2017 becoming Emeritus Professor at the University of York (UK), and continued his boundless and significant contributions to the STS community, especially supporting junior colleagues.
Until his retirement in 2017 Andrew was Director of the Science and Technology Studies Unit (SATSU) at York, which he had established at Anglia Ruskin University in 1988. The description of SATSU captures important aspects of Andrew's approach: 'Committed to open, creative and political thinking'.
Andrew has given much to the national and international STS community, and to many current and past members of CSS. His scholarship has made important contributions to understanding the implications of scientific and technological innovations and how they transform and shape our lives. Furthermore, Andrew's leadership and mentoring of junior colleagues has been inspirational. He received the Society for Social Studies of Science (4S) Award for exemplary mentoring in 2017. It was so well deserved: over more than 30 years he nurtured colleagues at all stages of their career, encouraging their contributions and helping to build their confidence. Many of us involved in the CSS have benefitted personally from his leadership and mentoring skills.
Andrew will be deeply missed and he leaves an enduring legacy of how to be the best kind of scholar. What a wonderful STS community it would be if we could all be as open, generous and inspiring. Our hearts go out to his family, and to his very many friends and colleagues.
---
Header image shows Andrew Webster introducing the 'Meeting Machines' panel at EASST 2018, at Lancaster University. Alongside Andrew sit Noortje Marres, Robin Williams and Sampsa Hyysalo.
In appreciation of Professor Andrew Webster, 1951-2021