May 26, 2017
Local children imagine university life through The Comic Project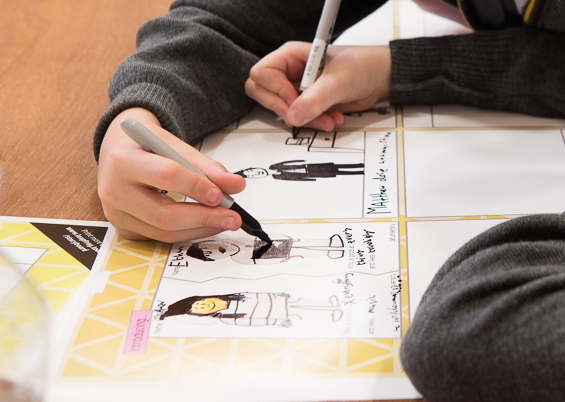 The children from two local schools, primary Pupil Referral Unit Stepping Stones and Heysham High School visited Lancaster University (LU) on March 28th. The visit is a part of the partnerhsip between The Dukes Theatre and Lancaster University. The Dukes developed a comic project in collaboration with LU.  Comic artist Ben Hunt worked with the students using visual methods as a way to develop and enhance their literacy skills and enjoyment for writing and reading. The comics have now provided the foundation for developing a script for the young people to develop and perform at the Dukes Theatre. Dr Natasa Lackovic and Dr Nicola Ingram (Educational Research) joined the project as academic PIs.
The university visit was organised by Dr Natasa Lackovic (Educational Research) with the support provided by Dr Nicola Ingram (Educational Research), Laura Wareing and Hayley Alter (LICA ), comic artist Ben Hunt, Vicky Fletcher, Outreach and  Learning Manager of The Dukes art institution (theatre and cinema) and the teachers from two schools.
The children spent half a day engaging in various activities around the themes of university life, aspirations and comic books. The event was organised to provide the young people with an opportunity to learn about and experience the university life, imagine themselves as future university students and engage further with the medium of comics. This was mediated via Leapfrog project tools provided by Laura and Hayley, presentation by Natasa and support in final design and colouring of the comics provided by Ben.
Leapfrog project web page reported: "Laura and Hayley decided to adapt the Storyboard Contract and Right Words tools to ask the pupils to draw out and write a story where they imagined an adventure at the university in the future. The starting point for these stories was to provide the pupils with an A2 size storyboard, prompting them to think of two characters that would meet at university and use some pre-​determined university words, such as LICA building, studying and chemistry that were printed on labeled columns on the Right Words sticker template. Laura and Hayley explained the task and showed the older pupils some example simple, compound and complex sentences to encourage them to practice their English skills. In addition to the Storyboard and Right Words tools, we used the Ideas Hexagon cards to help the pupils respond to questions about their perception of universities. We noticed that each of the 26 pupils who took part in the day engaged with the tools and recorded their thoughts on university life and a future at Lancaster University."
The link to Leapfrog project with the above cited  text on the workshop: www.leapfrog.tools