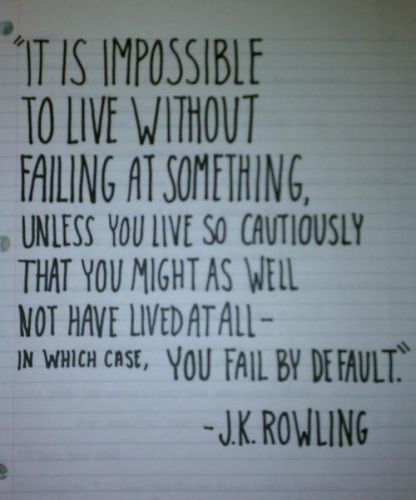 by Jeto (Student Blogger: BSc Psychology (Lancaster University Ghana)
Fail as many times as possible! You should get used to the concept of failing. Failing is something you can't avoid. There is no need for me to remind you of great minds such as Thomas Edison and Albert Einstein who are famous for making many mistakes and failing terribly before eventually succeeding. These are stories we've heard before. No matter how smart or careful we might be, we are all going to fail. We either fail at something or we fail to do something. So get used to the concept of failing, just as you've got used to breathing, because failing is the prerequisite for success.
This is the hard truth I have had to learn for the most part of my life and I am going to tell you how to become a professional at failing.
I don't know if you can relate to this, but every time I wrote an exam, my parents would always ask me how the exam had been and I would say "fine". But every time it came to the end of the term, I was always scared out of my mind because I thought I'd perform badly – and I always did, every single time. I would get woeful results, then always tell myself that it was the last time, that I would make sure I put in my best and do better the next year, but that never happened. All through my primary and secondary school, it was normal for me to fail. In fact, at one point I was no longer worrying about whether or not I failed, but how badly I failed.
However, after I left secondary school, there was a turn around. All of a sudden I was no longer worrying about how badly I failed but rather how well I passed. I went from being at the very bottom of the class to being at the very top, not because my classmates were not very smart, but because I became better at learning. I went from struggling to be a C student to being an A student, from the class jester to the class representative and president of the Psychology Association in Lancaster University Ghana – all of which happened because I came to one realization: failing isn't the same thing as failure. Failing is a journey towards success, while failure is a destination at the opposite end of success. Failing is when you keep trying until you succeed, while failure is when you quit after failing. So this is my advice:
Never mistake failing for failure.
Never be scared to fail, because it's the only way to succeed.
Never give up. Keep failing until you succeed.
Finally, get used to the concept of failing but don't get comfortable failing. Never forget that the goal is to succeed!
This is how to become a professional at failing – until you succeed.