Vicky Singleton and Richard Tutton report ….
The Centre for Science Studies welcomed the EASST Council to Lancaster University 22-23 May for their biannual meeting.
This was also a chance for the new President Professor Ulrike Felt and other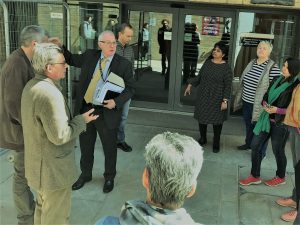 recently elected Councillors to get to know each other and to meet the Local Organizing Committee for next EASST Conference, which CSS is hosting from 25-28 July 2018.
We had a fantastic meeting with the Council, relating our thinking for the conference theme (soon to be revealed on our conference website which will launch next month!) and keynote speakers.
The Council also enjoyed a 'show-round' of our different conference venues and facilities. They were particularly impressed by the Great Hall and the LICA building, which will serve as venues for plenary sessions and the conference hub.
All of us at CSS are really excited at the prospect of having many old and new academic friends from Europe and beyond come to Lancaster next year.
As we are learning, conference organization is itself a fascinating exercise in what our colleague Professor John Law calls heterogeneous engin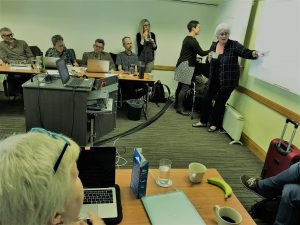 eering!
We have an enthusiastic team of colleagues involved from all four faculties at the University. They are, in full: Brian Bloomfield, Dawn Goodwin (co-chair of Programme Committee), Adrian Mackenzie, Nils Markusson, Maggie Mort, Celia Roberts, Vicky Singleton (co-chair of Local Organizing Committee), Bron Szerszynski, Richard Tutton (co-chair of Local Organizing Committee), Gordon Walker (co-chair of Programme Committee), Claire Waterton, and Lisa Wood.
EASST Council: Lancaster Visit