CSS at Lancaster has a very active community of Feminist Technoscience Scholars who work on various substantive topics including health, medicine and bodies, human-computer interaction, reproduction, environment and genetics.
The Feminist Technoscience Summer School is team-taught by these scholars, together with guest tutors. It runs every second year, usually in May. It has attracted participants from across Europe, the US and Australia and has received fantastic reviews from all participants – teachers and students alike.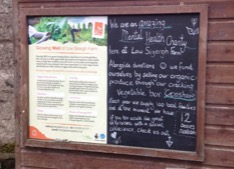 We work together over an intensive four days. The format includes lectures, text workshops (working closely with key texts), practice-based workshops (working with empirical materials), film screenings, socialising and activities outside the University. Our object is to learn, debate and transform the topics that we study.
In 2016 the theme for the school was Care Matters and we visited Growing Well, a local mental health charity.
In 2018 there will be no separate Feminist Technoscience Summer School. Instead we'll be running a doctoral event as a part of the 2018 EASST meeting.
In 2019, the theme for the school will be Meeting Frankenstein's Companions and the school will run from 28th – 31st of May. It will be run by Vicky Singleton, Lucy Suchman and Claire Waterton with guest tutors: Maureen McNeil (Sociology, Lancaster University), Michelle Murphy (University of Toronto), Sharon Ruston (English and Creative Writing, Lancaster University), Laura Watts (University of Edinburgh), and Louise Ann Wilson (Louise Ann Wilson Company, Lancaster).
Comments by previous participants
"The teaching was fabulous."
"Some amazing speakers."
"I enjoyed the format enormously. To be able to participate/listen tothe tutors discussing together and reflecting on the topics was highly stimulating. It stretched and challenged my understanding of difficult areas."
"Approximates more to exchange of ideas at research level, rather than a structured course."
"I really enjoyed breaking the rules of academia and the innovative activities such as the song and the visit to the farm."
The school is taught by ….
Professor Maureen McNeil
Professor Celia Roberts
Dr Vicky Singleton
Professor Lucy Suchman
Dr Claire Waterton
Past guest speakers have included:
Professor Karan Barad (UC Santa Cruz)
Professor Donna Haraway (UC Santa Cruz)
Professor Myra Hird (Queen's University, Ontario)
Dr Carol Kingdon (UCLAN and Liverpool Women's Hospital)
Professor Michelle Murphy (University of Toronto)
Dr Karen Throsby (University of Warwick)
Dr Anna Viseu, (Universidade Europeia and History of Science and Technology, Lisbon University)