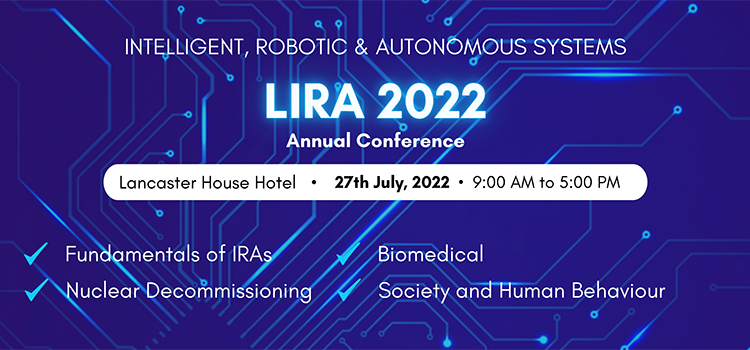 The Centre for Science Studies is pleased to invite colleagues to the LIRA 2022 Annual Conference on Intelligent, Robotic and Autonomous Systems, which will take place on July 27th at the Lancaster House Hotel, from 9:00AM to 5:00PM.
The conference will gather Lancaster University's scholars and invited speakers to share research on the application of autonomous technologies across disciplines such as security and defence, nuclear decommissioning, biomedical, and society and human behaviour.
The event is being funded and organized by LIRA (Lancaster Intelligent, Robotic and Autonomous Systems Research Centre), which is an interdisciplinary forum that brings together academics, researchers and students from across different faculties and departments of Lancaster University.
It is free to attend, but registration is required for catering purposes. For those interested, please send an e-mail with name and affiliation to lira-admin@lancaster.ac.uk.
For further questions, you may also contact our CSS member Juliana Michelon Alvarenga..
Programme
09:00 Registration & Breakfast
09:15 Welcome: Plamen Angelov (LIRA Centre Director)
09:30 Session 1 | Security and Defence: "Swarm Management under Stringent Communications Constraint", Paul Kinsler (Invited Speaker, University of Bath)
10:15 Session 2 | Nuclear Decommissioning: "Nuclear Robotics in LU Engineering", Stephen Monk (Lancaster University)
11:45 Coffee Break
11:00 Session 3 | Fundamentals of IRAS: "Democratized AI Beyond Clouds", Richard Jiang (Lancaster University)
11:30 Session 4 | Society and Human Behaviour: "Distributed Cognition in Human-Machine Systems", Juliana Michelon (Lancaster University)
12:00 Lunch
13:00 Session 5 | Biomedical: "Clinical Applications of Spectroscopy", Jemma Kerns (Lancaster University)
13:30 Workshop: "Identifying Common Interests for Collaborations", Neil McLatchie (Lancaster University)
16:30 Closing Remarks: Plamen Angelov (LIRA Centre Director)
LIRA 2022 Annual Conference on Intelligent, Robotics and Autonomous Systems