Who invented technology studies?
Not a very STS question! But even so, which are the names that spring to mind? Michel Callon? Trevor Pinch? Wiebe Bijker? All three were crucially important. Michel Callon created ANT, while Trevor Pinch and Wiebe Bijker together created SCOT. And Wiebe and Trevor along with Thomas Hughes edited the 1987 volume, The Social Construction of Technological Systems, which became the basic textbook for technology studies for ten or fifteen years. While Wiebe's case-studies remain exemplary both academically and politically: on the social shaping of the bicycle, on bakelite, on nano, and collaboratively on development and especially handloom weaving in India. And now he is retiring.
Wiebe gave his valedictory lecture from the pulpit of the Sint Janskirk in Maastricht on 12th May. (Ties van der Werff describes the lecture here – and thanks to him for the photograph too).  It was all quite formal. The assembled professors walked in not so solemn procession through the streets of Maastricht in heavy woollen robes and hats. And then, as part of the celebrations, there was a surprise first performance of a specially commissioned work for clarinet, two violins, cello and … bicycle. (I think I've got the strings right – at any rate they were played by his daughters.) And then Wiebe was presented with a celebratory volume modelled on a school textbook: Wegwijs in STS: Knowing your way in STS. (Had he not made a success of technology studies he would have gone back to his first love, physics teaching in secondary school.) Here's a recent interview with Wiebe in which he muses about technological studies, politics, and what it is that drives him. ('In 2017 I'm still against nuclear energy.')
Before the lecture, in the morning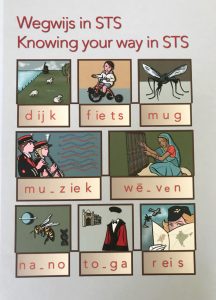 , Maastricht University organised a symposium in his honour: Adventuring into STS. For this he invited a few overseas friends and colleagues to talk for a few minutes. Trevor Pinch couldn't make it, but there were talks by Harry Collins, Knut Sørensen, Rosalind Williams, Shiv Visvanathan, and I talked too. Then there was some lively debate about truths, post-truths, and the political character (or otherwise) of science, technology and expertise. It's a tribute to Wiebe's breadth of interests that his friends are so heterogeneous.
The whole event was remarkable (as was the party afterwards), but then again, so is Wiebe. Though I wasn't really surprised, it was moving to see how much he is liked, admired, and appreciated, not only in the world of STS, but also in Maastricht and nationally in the Netherlands. Of course he will not be stopping, but in his retirement he tells us that he plans to spend more time with his bees. Here's the link to that interview again.