Transport Yourself to a Better Place
2017-2021
© Amy/Cordelia/Daisy/Marilyn/Qiana/Solace Women's Aid/Janet Bowstead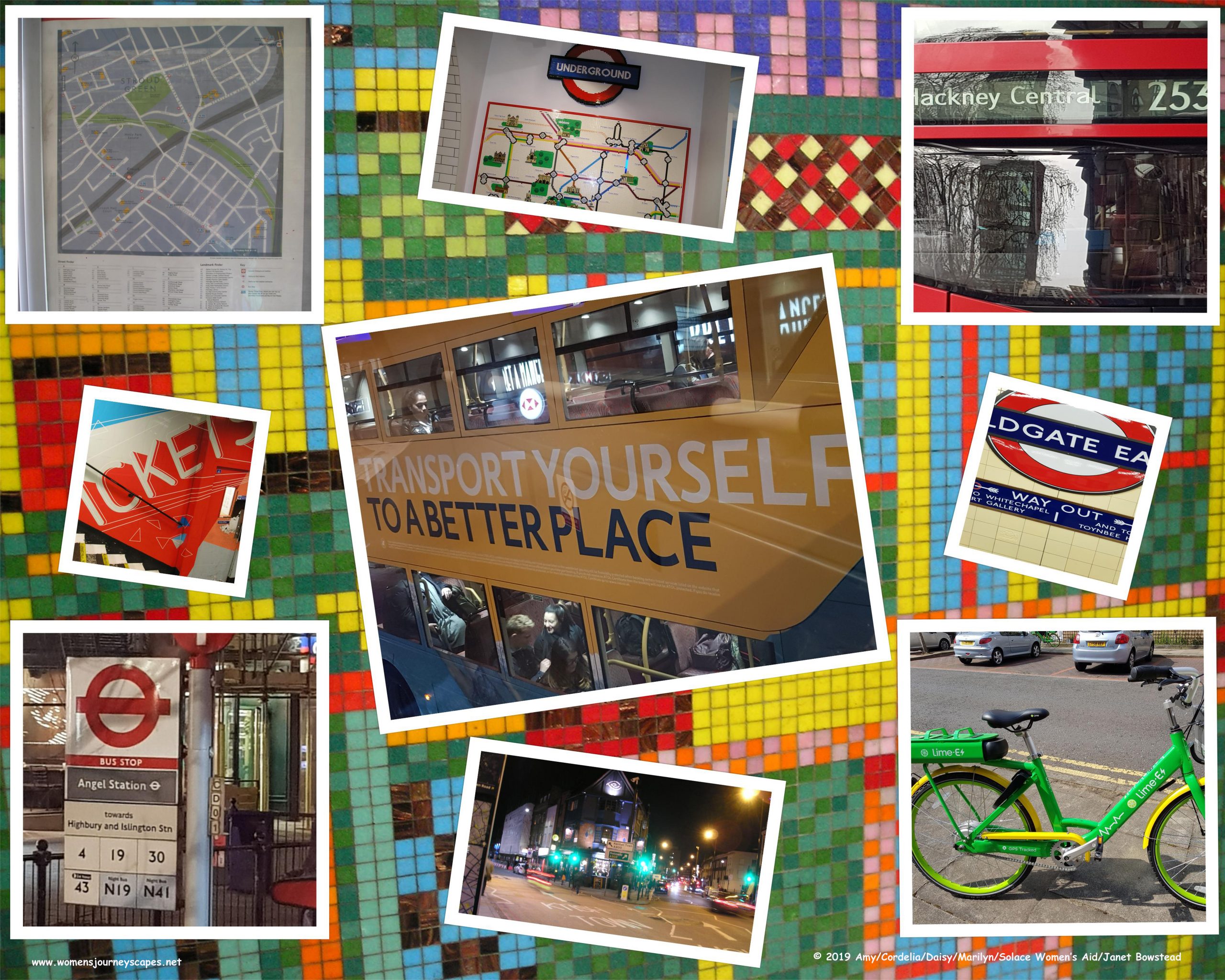 The research is on women's domestic violence journeys in the UK, exploring the emotional, policy and practical issues of being forced to escape intimate partner violence.  Women and their children experience forced internal displacement and often multiple stages of temporary accommodation and delayed resettlement.  Participatory photography was carried out with groups of women in three areas of London: two groups in women's refuges where women would soon be on the move again, and one at a women's centre with women who were beginning to resettle.  Over weekly sessions, participants used their photography and captions to communicate their experiences of mobility, producing images, maps and collages for themselves, for the group, for display in women's services, and for wider presentation through the research.  Whilst recognising what they had lost, women also focused on what they could take with them, and on sharing messages of strength and hope to reach other women they imagined making similar forced journeys.
Thanks to the specialist domestic violence service provider Solace Women's Aid, which assisted with arranging and carrying out the group work; and to all the women who shared their experiences, insights and images.  The work was supported by a British Academy Postdoctoral Fellowship.
Women took the slogan from a London bus as a metaphor for their own journeys from abuse to freedom.  As a mixture of London-born women, and women who had come to London, they took many photographs of their journeys around London on public and private transport, documenting their growing confidence and familiarity with different routes.  Within the groups they also shared knowledge of places and journeys – taking photographs and developing maps of useful locations and services for other women they imagined coming after them.  Captions to the photographs included "There is always a 'Way Out'!" and emphasising in the image of traffic lights that "all the lights are green!"  Through the groupwork women explored their experiences of displacement and resettlement, and brought their individual images together into collages to show their collaboration.
https://www.womensjourneyscapes.net/