The UCMMT 2021 Committees are pleased to invite you to the 14th UK, Europe, China Millimeter Waves and Terahertz Technology Workshop that will be held virtually, organised by Lancaster University, UK, on 13-15 September 2021.
UCMMT was formerly UK-China Millimeter Waves and Terahertz Technology Workshop created in 2007 to stimulate and strengthen the cultural exchange between UK and China. In 2012 the Workshop, held in Nanjing, was extended to the mainland Europe, stating the importance of even closer collaboration for the progress of science and technology. Since the first UCMMT meeting held in Chengdu in 2008, UCMMT is held alternatively one year in China and one year in Europe.
UCMMT is a unique forum, where lead scientists in particular from China, Europe and United Kingdom, but open to the full scientific community share their knowledge in the field of millimeter waves and THz sources, devices, systems and applications.
For the first time, nine relevant thematic tracks are proposed to cover the broad field of millimeter waves and THz and offer a topic oriented submission process.
Lancaster University

Lancaster University campus occupies a beautiful 560-acre parkland site and is proud to be one of only a handful of UK universities to have a collegiate system.
Lancaster is a research-intensive university, with 35% of our research classed as world-leading and 48% classed as internationally excellent in the UK Government's latest independent review, the 2014 Research Excellence Framework.
Lancaster is 135th out of more than 1,000 universities in the QS World University Rankings 2021. Lancaster is ranked 136th in the Times Higher Education World University Rankings 2021, up from 139th in 2020 making Lancaster 17th out of the 101 UK universities included in the table.
Past UCMMT Editions
2020 Tianjin
2019 London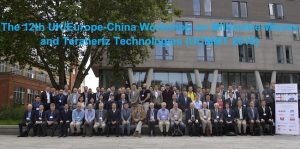 2018 Hangzhou
2017 Liverpool
2016 Beijing
2015 Cardiff
2014 Chengdu
2013 Rome
2012 Nanjing
2011 Glasgow