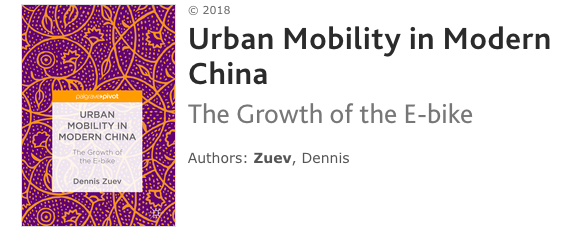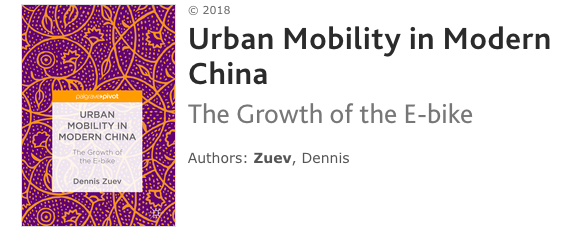 Dear Colleagues,
Some of you might be interested in urban mobility in China and e-bikes.
New Book Announcement:
UrbanMobility in Modern China. The Growth of the E-bike
Dennis Zuev, Nuertingen-Geislingen University, Germany and Centre for Research and Studies in Sociology, CIES-ISCTE, Portugal
This book is an empirically rich case-study of what is currently the most popular alternative-fuel vehicle in the history of motorization – the electric two-wheeler (e-bike). The book provides sociological insights into e-bike mobility in China and discusses politics, social practices and larger issues of mobility transition in urban China.
Taking an accessible approach to the subject, the book identifies the main sociospatial conflicts regarding the use of e-bikes and discusses why electric two-wheeler mobility is important for the future of urban China and urban transportation globally. This book will be an invaluable read for urban geographers and transportation researchers, but also for academics and general readers interested in Chinese Studies, specifically in the area of urban mobility in China.
Table of Contents:
·  Introduction: Towards an Understanding of E-bike Mobility in China
·  The Culture and Politics of E-bike Mobility in China
·  'The Human Flesh Covering Steel': Materialities of E-bike Propelled Movement
·  Journeys and the Social Life of the E-bike
·  The Smart Ways Forward for the Electric Two-Wheeler
With best wishes,
—
Зуев Денис (канд.соц.наук)
Dr. Dennis Zuev
Lecturer,  International Master Program Sustainable Mobilities – Hochschule für Wirtschaft und Umwelt, Nürtingen-Geislingen, Germany

Researcher, Centre for Research and Studies in Sociology, CIES-ISCTE, Portugal

Vice-President (research) ISA Research Committee 57 Visual Sociology