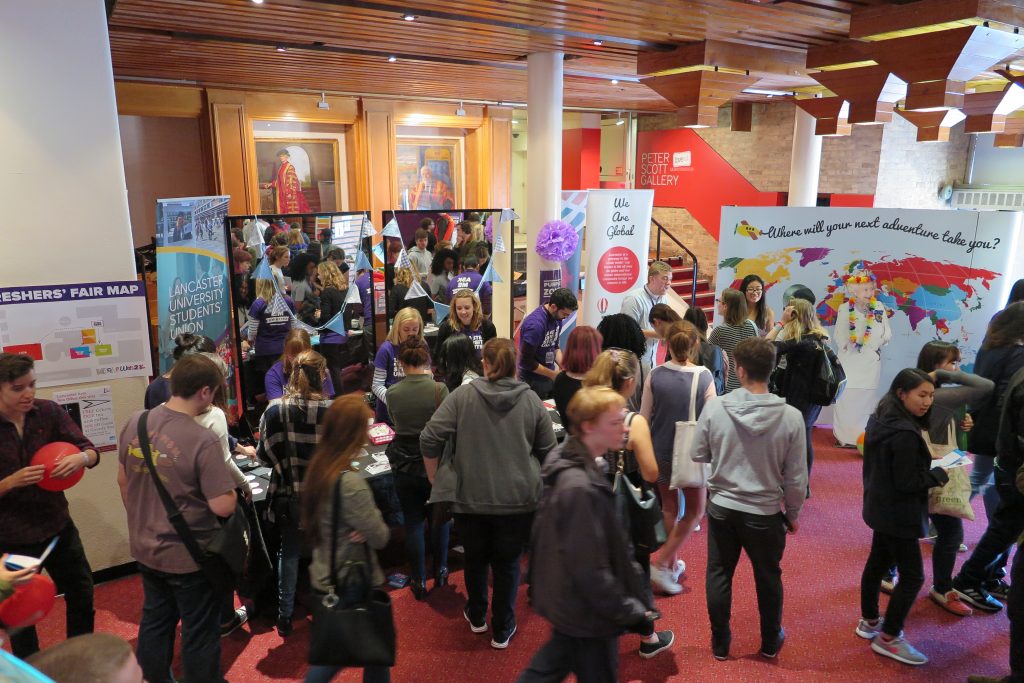 by Nevena (Student Blogger: BSc Hons Business Studies (Industry))
Welcome on Board! I presume everyone around you is excited about your new journey and asks questions about your feelings on the issue. Yes, it is a change, indeed. But don't worry if you can't find the right words to describe how you are feeling. Immerse yourself in the summer and the freedom you have now in order to give yourself the opportunity to gain strength for the colder weather that awaits you in Lancaster. Here are a few things to help you prepare:
Lesson #1
The weather is not as bad as you might think. There may be more rain than you have been used to, especially if you are coming from a sunny country like Spain or Italy. Don't let the fog and wind discourage you and steal away from your enthusiasm. After all, the weather is only a small detail from the larger picture and October will be pretty sunny, I've checked the forecast for you J
Lesson #2
Prepare to be organised. Once you come to university, you will feel the weight of so many more responsibilities, having to live on your own and cope with your studies. It won't be easy, but it's something everyone has the ability to master. Once you arrive in England if you are coming from a different country, or once your parents drive you to the campus of the university in early October with a car full of belongings, you will be given the keys to a room that is supposed to become your new home. You will open the door at some of the floors of the university accommodation and you will see this small space that will look pretty plain. However, you have the power to transform it! Empty your suitcase and decide what other objects will make this space feel more comfy (*pillows, rugs, photos, lights, posters are just the first ideas that come to my mind). Any place can feel like home so just use your creativity!
Lesson #3
After you arrive, you will have one week to get yourself introduced to the new place and many of the new people. Or in other words, during Fresher's week, you'll be occupied with activities all the time and you won't be able to remember half of the names of new people you meet. But what's important is that you will have time to settle down.
Lesson #4
The real dilemma most students go through in their first week is what societies and activities to join. There is an event at the end of Fresher's week, called Fresher's Fair where all the societies try to gain new members. If you are a very proactive person or if you have a lot of enthusiasm to try something new, there are high chances you end up signing up for 6,7 or even 10 different societies. The truth is, you won't have time for all of them. Societies are a way to meet like-minded people with identical interests as you, but you need to sit down and prioritize what really brings you joy. It is unrealistic to think that you are Superman or Superwoman and can manage doing everything, so choose 2 or 3 that really stand out to you.
(*you can get a glimpse on all the societies here https://lusu.co.uk/societies  where all of them have a brief description; however, wait until the fair until you make a decision)
Lesson #5
ASK. ASK. ASK! Asking questions can be scary to some people, but it can be the shortest way to making a decision in many cases, especially in the beginning when everything will be new to you. Ask older students, ask fresher reps, ask university staff: everyone is there to help you. Forget any fears you may have and step out of your comfort zone to get someone else's impression who has already been through that.
It's still summer, but university time is slowly approaching. Until then, enjoy yourself, your family and friends, and come fresh, energetic, and open for the new experiences to come in October. And don't forget about the #lessons as they might save you some nerve breakages in the beginning of your school year.