Professor Mariana Rufino | Lancaster University
Mariana's work focuses on farming systems with a special interest on livestock, forests and climate change mitigation. Most of her work focuses on Sub-Saharan Africa where she has been working for the last 15 years, developing a deeper understanding of opportunities for intensification of agricultural production and the risks of associated environmental impacts. She uses field experimentation, farm and field surveys, dynamic simulation and optimisation models to study land use impacts on water supply, and greenhouse gas emissions, food security, and landscape productivity and the potential pathways for adaptation of farming to climate change. Full profile
Co-Investigators
Peter Cronkleton | CIFOR
Peter is a Senior Scientist at the Center for International Forestry Research in the Stainable Landscapes and Livelihoods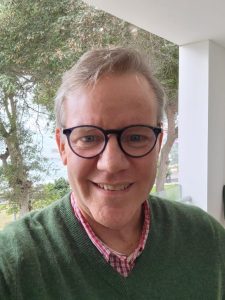 program. He is an Anthropologist and expert on property rights systems, customary institutions and resource governance. A main focus of his research has been on how property rights security effects resource management decisions by smallholder farmers. He led CIFOR's West Africa Forest Farm Interface project, an IFAD funded effort in Ghana and Burkina Faso that analyses the multi-use landscape mosaics managed by Sahelian farmers. He has also led multi-country research initiatives including a DFID-KNOWFOR study to examine the role of property rights in forest restoration initiatives in Ethiopia, China and Nepal. Peter has worked as a researcher and development practitioner in Latin America, Africa and Asia for more than 21 years.
Esther Mwangi | CIFOR
Sadly, Esther passed away in September 2019. Her contributions were invaluable in shaping the project and she is deeply missed. Read more about Esther's life and work.
Joseph Hitimana | University of Kabianga
Joseph is the acting Dean at the University of Kabianga's School of Natural Resource and Environmental Management and a
co-investigator on Project ReDEAL. He has research interests in agroforestry and environmental services of trees and forests, community-based natural resource planning and management and biodiversity conservation, among many others. He has actively undertaken many research projects in the Kericho and Bomet areas of Kenya where some of ReDEAL's work takes place.
Lutz Merbold | Mazinga Centre, ILRI (until September 2020)

Lutz Merbold heads the Mazingira (Swahili word for environment) Centre – a state-of-the-art environmental and education facility – at the International Livestock Research Institute (ILRI) in Nairobi, Kenya. He is driven by a simple research question: "How do ecosystems function now and how will they function in the future?" As a consequence his research focuses on the detailed understanding of nutrient cycling in ecosystems worldwide, including wetlands, woodlands, forests, savannas, grasslands and livestock systems across the globe. By quantifying and studying the greenhouse gas (GHG) exchange at ecosystem scale he aims at understanding the linkages between the biogeochemical cycles of carbon, nitrogen and water. He is also interested in the exchange of GHGs at the process level (leafs, soils and animals using GHG chambers) and larger scales (regional to global) using modeling (empirical, semi-empirical and process-based biogeochemical models) and remote sensing approaches, while linking environmental aspects to productivity.
Klaus Butterbach-Bahl | ILRI (after September 2020)
Klaus Butterbach-Bahl is a biogeoscientist who has made fundamental contributions to the understanding of global change feedbacks in terrestrial ecosystems and the exchange of trace gases between the biosphere and the atmosphere. His main research achievements are the quantitative estimation of greenhouse gas exchange, specifically methane, carbon dioxide and nitrogenous species (NO, N2O) at regional and global levels, in addition to modelling ecosystem carbon and nitrogen turnover and their exchange between ecosystems and the atmosphere.
Professor Richard Bardgett | University of Manchester

Richard Bardgett is Professor of Ecology at The University of Manchester. His research seeks to develop a mechanistic and conceptual understanding of how interactions between plants and complex soil biological communities regulate biogeochemical cycles and plant community dynamics, and their response to global change. He has written several books on this topic, including "Aboveground-Belowground Interactions (2010) and "Earth Matters: How Soil Underpins Civilization" (2016), both published by Oxford University Press, and is routinely recognized as a Highly Cited Researcher in ecology and environmental sciences. Richard is currently President of the British Ecological Society and Senior Editor of Journal of Ecology. More on the Soil Ecosystem and Ecology Lab at The University of Manchester.
Professor John Quinton | Lancaster University
John has 28 years research experience in soil and water science. He has been PI for grants totalling >£10M from BBSRC, NERC, EU, HEFCE and Defra, and his current work focuses on soil resilience, soil lifespans and soil monitoring, and diffuse pollution control, natural flood management and macronutrient cycling. He is Co-I for the BBSRC GCRF Foundation Award 'Restoring soil function and resilience to degraded grasslands' project in China and collaborator in the 'Water Towers' project in Kenya, investigating the impact of land use on soil sediment loss. This work builds on his BBSRC supported work on how plant diversity influences soil physical properties to improve soil resistance to erosion. Full profile
Researchers
Alice Onyango | ILRI

Alice is an early career scientist working in smallholder farming systems in Western Kenya on developing methodologies and datasets to estimate their contribution to greenhouse gas emissions to evaluate interventions aimed at increasing production while mitigating climate change. She is interested in 1) sustainably optimizing smallholder production systems; and 2) improving estimates of nutritive quality of tropical ruminant feedstuffs aimed at enhancing animal nutrition and productivity under resource constraints.
Douglas Bwire | CIFOR
Douglas is a Research Officer at CIFOR. His research interest focuses on institutional analysis and capacity
development. His recent work has involved coordinating research and capacity development that seek to strengthen joint forest and water governance in East Africa's 'Water towers'. He has contributed to the review and development of forest and water management plans, and guides for smallholder farmers' institutional analysis and capacity development in East Africa. He is also interested in climate change adaptation.
Ellen Fry | University of Manchester (until March 2021)

Ellen is interested in how we can use plant functional traits to effectively predict ecosystem functioning. Her recent projects have used bespoke plant functional groups to create contrasting species assemblages in a chalk grassland landscape in order to determine the role of functional traits on soil and plant restoration. She augmented this with a rainout shelter design to investigate the effect of a severe drought event on these assemblages and evaluate their resistance and resilience. Most recently she has been testing the resilience of the microbial communities in peat soils to multiple climate changes. Dr Ellen Fry now works
Gabriel Yesuf | Lancaster University (until June 2021)

Gabriel is a Senior Research Associate. His research interest is on spatial ecology and tropical landscapes. He is also interested on assessing the potentials of climate change mitigation and biodiversity conservation in Sub-Saharan Africa by integrating remotely sensed and field-based data under a spatially explicit framework. He is also working on the 'Greening Livestock' project with Mariana to analyse household surveys, design and implement assessment workshops in smallholder dairy production systems of Kenya and Tanzania. Gabriel has now moved on to work at the University of Reading.
German Baldi | Lancaster University
German Baldi is a visiting researcher at the Lancaster Environment Centre. He will be working on the analysis
of data collected during Work Package 3 and will stay with Lancaster University until the end of the project (March 2022). German comes to Lancaster University from San Luis, Argentina where he works with two National Universities and the National Council for Scientific and Technical Research. He has worked on many different objects of study, such as the agricultural use of a territory, its degradation from different interventions or stressors, and its conservation. Typically his studies involve different spatial (from local to global) and temporal levels (current and historical), remote sensing, GIS, and multivariate methods.
Oscar Kisaka | University of Kabianga (until October 2021)
Oscar is a research assistant within the School of Natural Resource and Environmental Management at the University of Kabianga. He focusses on work package 4: specifically on capacity building and the dissemination of project achievements to stakeholders. This is in order to initiate the uptake of ecological restoration solutions in grasslands.
Yuda Odongo | University of Kabianga
Yuda is also a research associate at the University of Kabianga. He works alongside Oscar to carry out work related to the outreach and dissemination objectives of the project.
Pauline Kimani | University of Kabianga (after October 2021)

Pauline Kimani is an early career scientist with experience as a Research Assistant at the Indian Agricultural Research Institute. Her interests are founded in a desire to develop integrated solutions that address environmental sustainability, climate resilience, socio-economic development and good governance at a variety of scales. She has a background in Environmental Science and has extensive experience in applying crop simulation models, utilising Remote Sensing and GIS for natural resource management and designing field crop experiments.
Advisory Board
Prof. Charles K.K. Gachene | University of Nairobi (Chair)
Dr Patrick Gicheru | Kenya Agricultural & Livestock Research Organisation
Paul Maritim | Lake Region Economic Block
Jackson Mpario | Narok County
Anne Chepkwony | Farming community