1st December 2021
A ReDEAL Film Showing: The power of African soils to determine our shared future 
On the 16th November 2021 Team ReDEAL had the privileged opportunity to premier their film, showcasing work that has taken place over the last three years under the BBSRC funded project. The film showing took place at Lancaster University on a cold autumn evening and the event held a spot in the Economic and Social Research Council's Festival of Social Science. Open to all, the evening was eagerly anticipated by both attendees and participants.
The event was run brilliantly by local students from Lancaster secondary schools. These students were eager to learn more about Africa and the inter-relationships between soils and climate change but also to express their opinions on Project ReDEAL and what it means for their future. The evening began with an introduction from Robin Kalis who talked through Project ReDEAL's aims and objectives, providing a background to the project for those who were unfamiliar with it. This included an overview of the project's main aim to help farming communities reverse the degradation of grasslands in the highlands of Kenya. Additionally, Robin alluded to the benefits of restoring degraded grasslands including improving livestock productivity, food security and ecosystem conservation. This was followed up with a brief outline of the evening's activities by Daniel Raymond who proceeded to introduce the rest of his colleagues.
All was quiet in the Lancaster Environment Centre Biology Lecture Theatre when the captivating film was showcased. Insights were gained from Kenyan farmers local to the project sites on their perception of soil degradation, potential solutions and how their land has changed over time. Some of the project researchers were also present in the film depicting the finer project details and emphasising the necessity of bottom up restoration solutions.
Following the film, the students interrogated the researchers. Questions were raised covering a diversity of topics including: the wider implementation of the restoration solutions; logistical challenges relating to the COVID-19 Pandemic and cultural barriers to the solutions. The students held the attention of the audience through careful and considered questioning which proved to be very interesting to watch. 
The event was wrapped up with a selection of canapés and the opportunity to chat with the researchers over tea and coffee. At Team ReDEAL we were incredibly impressed with the enthusiasm and passion of the students who critically questioned the researchers. The interviews and remarks from the students provided an eye-opening opportunity to understand the thoughts and opinions of the younger generation but also the opportunity to assess the future of Project ReDEAL. 
Following on from the success of the ReDEAL film showing, we'd like to gather more opinions on our project and ideas on how we can reach out to the younger generation who will largely be responsible for continuing with the work encapsulated in Project ReDEAL. We welcome ideas on what we could do differently, how we can engage future generations in positive environmental action and how we can address some of the challenges raised by our students.
Take at the film we showed at our event here:
For enquiries, questions and comments on our work and film please email: restoregrazing@lancaster.ac.uk
by Rachael Middleton
---
16th October 2021
A ReDEAL Update: Establishing field trial sites in Nyando, Kenya
You'll know from our last blog that the whole of Team ReDEAL has had to adapt in light of global changes brought about by the COVID 19 pandemic. Field work has been put on hold, deliverables changed to fit with the new normal, deadlines altered and zoom meetings have become the new normal. However, we have been working hard to continue with the fundamental research encapsulated by project ReDEAL in order to better understand the most effective methods of restoring degraded grasslands. In May 2021 we reached a major milestone in the project's field work with the establishment of field trial sites in Nyando. As part of our COVID 19 reflections we're taking a look back at this process.
What was involved?
Time limitations were in place for this activity as setting up the field sites had to occur after the wet season in eastern Kenya concluded. As such, this took place in May 2021. It involved setting up two experimental trial sites at Thur Gem and Kap Sarok.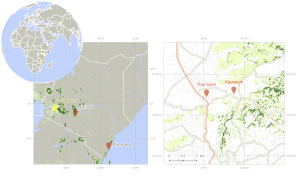 Figure 1: Map of the project site (Source G Baldi)
The two trial sites were fenced off to reduce interference from livestock and to ensure a robust trial. Soil inoculum (where desirable bacteria are added to the soil to aid plant growth), manure and farmer practice were used as the main treatments at the trial sites. Each treatment was replicated 4 times with 8 combinations, giving 32 experimental plots per site. Prior to applying the treatments 4 random samples were collected from each experimental plot using core rings for microbial biomass analysis. A total of 256 soil samples and 2 manure samples were collected and shipped to Lancaster University for analysis.
What is happening now?
The team of scientists at Lancaster University are about to commence analysis of soil samples from these experimental plots. Frequent zoom meetings have been utilised to ensure there is adequate communication between the field workers in Kenya and the lab scientists back in Lancaster.
Team ReDEAL continue to be highly motivated to push on with this research and aim to conclude the project in March 2022. Keep an eye out on our website for more updates and blogs that detail the numerous activities we have been up to.
by Fred Wandera and Rachael Middleton
---
15th October 2021
A reflection on research activities under COVID-19: a case of the ReDEAL project
"If we continue to treat this disease normally, it will treat us abnormally" is a popular quote in Kenya, originating from Hon. Mutahi Kagwe, the Cabinet Secretary of Health. This is true in all facets of life including research, where we must accept a 'new normal' for the way in which we conduct it. As we are emerging from the deepest grips of the COVID-19 pandemic and learning to cope with recurring peaks of infection in a way that looks a little more 'normal', we thought it would be an ideal time to look back on how the pandemic has affected international research.
In April 2019, Mazingira Centre of the International Livestock Research Institute (ILRI) in conjunction with Lancaster University, The University of Manchester, the Centre for International Forestry Research (CIFOR) and the University of Kabianga was awarded a grant by the UK Government BBSRC as part of the Global Challenges Research Fund for a project in Western Kenya called "Restoration of African Degraded Landscapes (ReDEAL)". It is taking place in the Nyando and Sondu basins, which are home to the Mau Forest (Figure 1). The project aims to help reverse degradation trends in smallholder grazing lands of Western Kenya through the use of plant diversity and livestock management. The rationale behind this is that biophysical and institutional research coupled with landscape monitoring can generate robust evidence for better land restoration practices and policies.
Figure 1: Map of the study area in Western Kenya (Source: G. Yesuf)
Land is considered degraded when it loses its ability to provide specific ecosystem services such as provisioning services (e.g. food, fibre, water), those that support ecosystem function (e.g. nutrient cycling, soil formation, photosynthesis), regulate conditions (e.g. pests, pollination); and serve culture (e.g., recreation, tourism, aesthetics). This process can be accelerated by human activities such as overgrazing, deforestation, and intensive cropping activities. In Kenya, over 12 million people live on degraded lands, covering 17% of the country's total area (Mulinge et al, 2015; Figure 2). Western Kenya is classified as severely to very severely degraded due to the conversion of forests into cropland, a low input of nutrients into the soil, overgrazing, and socio-climatic changes. This has led to overall low land and livestock productivity and low resilience to extreme climatic events, resulting in food and income insecurity.
Figure 2: Degraded land in Nyando, Western Kenya in November 2019 (Photo by L. Merbold)
Under the 'old normal' research regime, the project got fully underway in October 2019 when all of the project partners met in Kericho (Figure 3) together with the Scientific Advisory Board and members of the community for consultations aimed at getting everyone on-board and to chart the detailed project implementation plan.
Figure 3: Project partners visiting a farmer during a field visit at Kapsarok, Kericho County, Kenya (Photo by B. Ng'eno)
This was followed by field visits, the identification of farmers and plots for field experiments, seeking and securing consent for participation, administering household surveys, setting up monitoring plots, initial biomass data collection and setting up a soil analytical lab between December 2019 – February 2020 (Figure 4). However, in March 2020, the world as we know it 'flipped' with travel restrictions enforcing a complete stop to all fieldwork and an improvised refocusing on desk work.
Figure 4: Field work setting up vegetation monitoring cages and herbarium preparation for plant species identification (Photos by B. Ng'eno and A. Otieno)
In order to ensure progress with the project and to be ready to resume fieldwork once the restrictions were loosened, the team continued to have virtual meetings. This encompassed phone calls across different time zones, WhatsApp communications with farmers and other partners and the virtual coordination of field and lab work. Furthermore, contingency plans were drawn up based on different scenarios. By August 2020, we were approved to resume some field work. This has slowly increased throughout 2021 far to a point where all field work activities are now under way, although precautions are still being taken to ensure that work is carried out safely in line with local COVID-19 restrictions. We remain positive that the current situation will continue to improve globally and locally and although the "new normal" may be here to stay, we strive to equip ourselves to be flexible and resilient enough to continue doing what we do best: research that seeks to "better lives through livestock".
References:
Mulinge, W. et al. (2016) Economics of Land Degradation and Improvement in Kenya. In: Nkonya, E., Mirzabaev, A. and von Braun J. (eds) Economics of Land Degradation and Improvement – A Global Assessment for Sustainable Development, Springer, USA. Available at <https://doi.org/10.1007/978-3-319-19168-3_16>.
by Rachael Middleton and Alice Onyango
---