ENGaGE: Digital task bank for dyslexic language learners
Inclusive language teaching tasks and materials for dyslexic learners of English and German in primary school settings.
Link to the English task bank: http://engage.uni-miskolc.hu/index.php/self-study-course/
Link to the German task bank: http://engage.uni-miskolc.hu/index.php/selbstlerntutorium/
Comics for Inclusive English Language Learning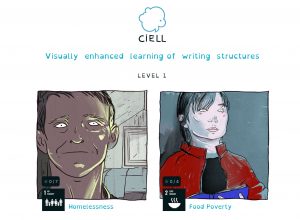 This mobile app  supports dyslexic students preparing for the written component of high-stakes language proficiency exams such as IELTS and Cambridge Advanced and Proficiency. The app's focus is on opinion essays, reviews and article writing. Writing guidelines and sample essays are  available in comic form and other visual representations such as mindmaps will be offered. The topics of the essay writing are based on the 17 United Nations goals for 2030.
Link to the app: https://ciell.eu/app/#/
Websites and apps helpful for  language learners with specific learning difficulties
This PDF document contains a variety of useful websites and apps that help students with SpLDs to learn English. They are grouped according to themes such as games, songs, spelling help etc.
Link to PDF: Websites_Apps_Dyslexia – Copy2019
In this document we compiled resources for languages other than English:
Link to PDF: Language resources_2019
English Sounds Fun
English Sounds Fun  by Dr. Anne Margaret Smith and A Anastasia Metallinou takes a bottom-up approach (working from the sounds of English and matching them to common spelling patterns) as well as a top-down approach (developing social English and then analysing phrases to draw attention to grammar patterns).
It comprises both hands-on and on-line materials in order to engage learners and make the language more accessible. Each lesson focuses on a small amount of new language, building on what has already been learnt.
As well as grammatical structures and vocabulary, English Sounds Fun helps students to develop good study skills, and memory strategies, and builds their self-esteem. Through experiencing success early on, learners come to believe that they can learn English, and so they do.
Presentations
This presentation outline gives tips and advice to students on learning strategies and techniques that can assist in language learning.
Link to presentation: FOstudents2019_website