Debate
2020
I am a PhD student at the Department of Education, University of Oxford, and this illustration was based on my emerging findings about young refugees' experiences in Greece. My project ethnographically explores the challenges and meaning of education for refugee and asylum-seeking youth, with the aim of understanding how they navigate the conditions of 'unsettlement' in/through different forms of learning. My fieldwork took place in one city in the north of Greece which is known for its proactive local integration policies and history of hospitality. However, the young people and educators I met in non-formal educational settings – such as arts workshops and language classes – told very different stories of the city.
Like many others, I was forced to pause the chaos of fieldwork due to COVID-19 in March 2020. As I had been inviting young people to sit and draw with me during focus group discussions and lessons, it seemed natural to continue with this method in my own process of reflecting on what I had seen, heard and read so far. I wanted to use my tendency to doodle to share the perspectives and experiences of youth in colour, and hopefully beyond academia. In this particular image, I was reflecting on the discursive environment youth find themselves trapped in, with few or no chances to speak up against these forms of bordering in their everyday lives. It was informed by interviews with youth and snippets of conversations I had engaged in or overheard; real graffiti and protests around the city; the wider literature on refugees' experiences in Greece; and my own reflections as a researcher working with youth. It was hand-drawn in ink and then colour was added digitally. 
I hope that this sketch can highlight the concerns of forcibly displaced youth in an accessible way, to encourage a wider audience to try to understand their everyday realities.
For me, a border
2021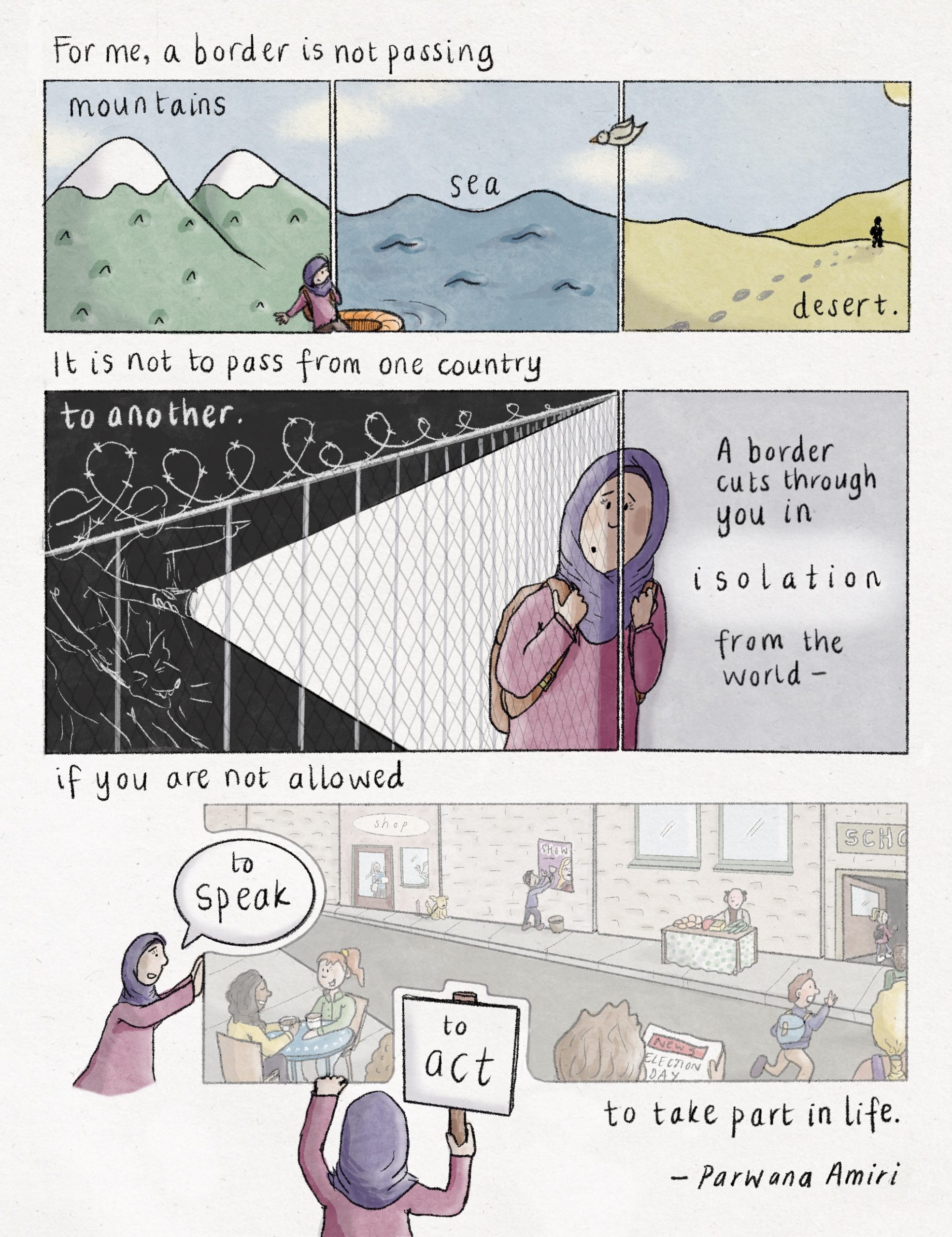 Last summer, I came across these words from Parwana Amiri on social media. They were documented by a journalist who had been talking to Parwana – a writer from Afghanistan – about the experience of living in the notorious Greek refugee camps. Several things struck me: firstly, that these few lines perfectly encapsulated consolidated how borders are socially constructed; secondly, that they should be shared more widely; and thirdly, that the powerful imagery lends itself beautifully to a visual format. For these reasons, I contacted Parwana to ask for her permission to transform them into a comic. Thankfully she agreed, confirmed that the wording was accurate, gave feedback on the initial sketches. 
The comic was created using digital ink, on an iPad Pro. Even when using these new digital tools, I prefer using paper textures and ink brushes which leave splotches and signs it was made by a human hand. In terms of structure, I've tried to make the character interact with the panels themselves, to give another layer to the words used. The illustration was originally created in English, for which it won first prize in the 'migration' category of the University of British Columbia's Migration and Mobility Art Competition, and later translated into Farsi – Parwana's mother tongue.
Parwana has been an active reporter of life as a refugee in Greece. Her new project – 'Letters to the world from Ritsona' (a camp 90km north of Athens) – details the stories of residents struggling through the conditions of displacement at the borders of Europe. It is my hope with this comic that more attention will be drawn to their difficulties, to raise awareness of how they are being treated and to put pressure on the Greek and European authorities to find solutions. I believe that Parwana's eloquent and powerful words have the potential to do so, and wished to bring them into colour to help them reach a wider audience.