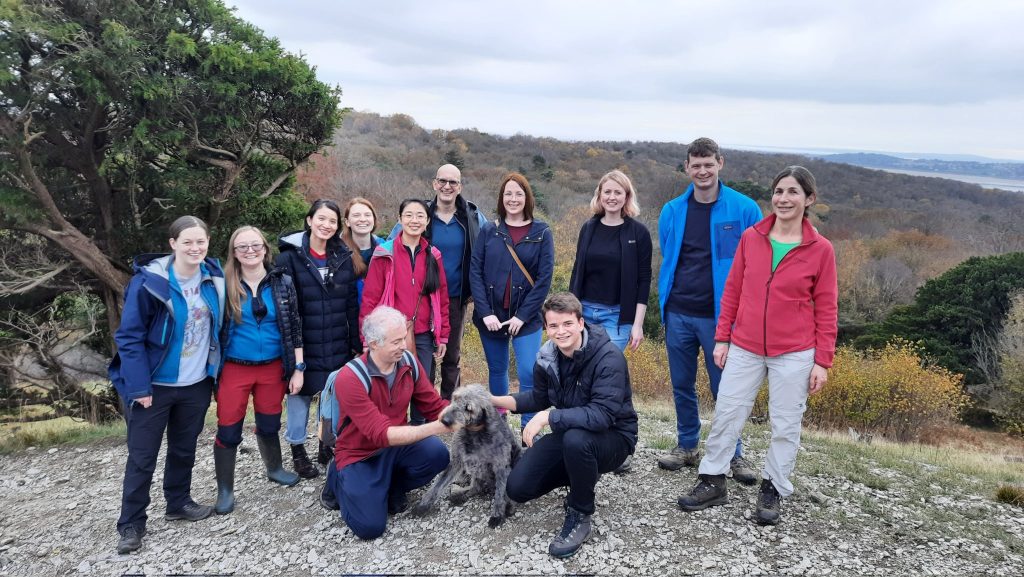 Members of the Sustainable Soils Group at Lancaster Environment Centre are in Vienna this week for the European Geosciences Union General Assembly – a meeting of 1000s of scientists from across the world, and with delegates online since the pandemic.
From the mystery of missing phosphorus in long-term agricultural experiments, to the mysteries of tree methane in the Brazilian Amazon and new data science techniques to new microscopy methods, we're looking forward to sharing our research, meeting others with shared interests, and catching up with friends and colleagues.
See below for the timetable of contributions – come meet with us or join online and find out more:
Monday
EGU23-12072 | Posters on site | BG3.5  
Does elevated CO2 alter root architecture and biomass after 5 years in a mature temperate woodland?   
Angeliki Kourmouli, Liz Hamilton, Rebecca Bartlett, Rosemary Dyson, James Gore, Robert Grzesik, Iain Hartley, Iain Johnston, Alexandra Kulawska, Carolina Mayoral, Susan Quick, Michaela Reay, Zongbo Shi, Andy Smith, Sami Ullah, Clare Ziegler, and A. Rob Mackenzie
Mon, 24 Apr, 10:45–12:30   Hall A | A.228 
Tuesday
Tree methane: Getting to the root of it.  
Holly Blincow, Sunitha Pangala, Niall McNamara, and Alison Hoyt
Tue, 25 Apr, 08:53–09:03   Room 2.95, EGU23-1783 | Oral session | BG3.25  
Can we account for the "missing" phosphorus in simulated low phosphorus agricultural systems? 
Jennifer Davies, Victoria Janes-Bassett, Martin Blackwell, Andrew Burgess, Jessica Davies, and Philip Haygarth
Tue, 25 Apr, 11:30–11:40   Room 1.15/16, EGU23-3112 | Oral session | BG1.5 
Identifying soil signatures from soil moisture time series via a changepoint-based approach   
Mengyi Gong, Rebecca Killick, Christopher Nemeth, John Quinton, and Jessica Davis
Tue, 25 Apr, 16:30–16:40   Room G2, EGU23-2400 | Oral session | NP4.1  
Thursday
Building on soil sustainability: Principles for soils in planning and construction
Jess Davies, John Quinton, Roisin O'Riordan, Paul Hatch, Susanna Dart, Adam Birchall, Birgit Hontzsch, Charles Campion, and Noel Farrer
Thu, 27 Apr, 15:05–15:15   Room 0.96/97, EGU23-7840 | Oral session | SSS12.2 
Friday
Towards quality-assured measurements of microplastics in soils using fluorescence microscopy
Quynh Nhu Phan Le, Crispin Halsall, Stoyana Peneva, Olivia Wridley, Wulf Amelung, Melanie Braun, John Quinton, and Ben Surridge
Fri, 28 Apr, 14:05–14:15   Room K2, EGU23-13873 | Oral session | SSS7.4 
Quantifying the movement of microplastics in soil in response to overland flow and splash erosion
Emilee Severe, Ben Surridge, Rachel Platel, Michael Coogan, Michael James, Peter Fiener, and John Quinton
Fri, 28 Apr, 15:05–15:15   Room K2, EGU23-13713 | Oral session | SSS7.4 
Novel Printed Soil Decomposition Sensors Based on Biodegradation   
Madhur Atreya, John-Baptist Kauzya, Stacie DeSousa, Evan Williams, Austin Hayes, Karan Dikshit, Jenna Nielson, Abigail Palmgren, Sara Khorchidian, Shangshi Liu, Anupama Gopalakrishnan, Eloise Bihar, Carson Bruns, Richard Bardgett, John Quinton, Jessica Davies, Jason Neff, and Gregory Whiting
Fri, 28 Apr, 17:15–17:25   Room -2.20, EGU23-8573 | Oral session | SSS8.4