Holly Blincow, PhD Student, Lancaster Environment Centre
h.blincow@lancaster.ac.uk Twitter: @HollyBlincow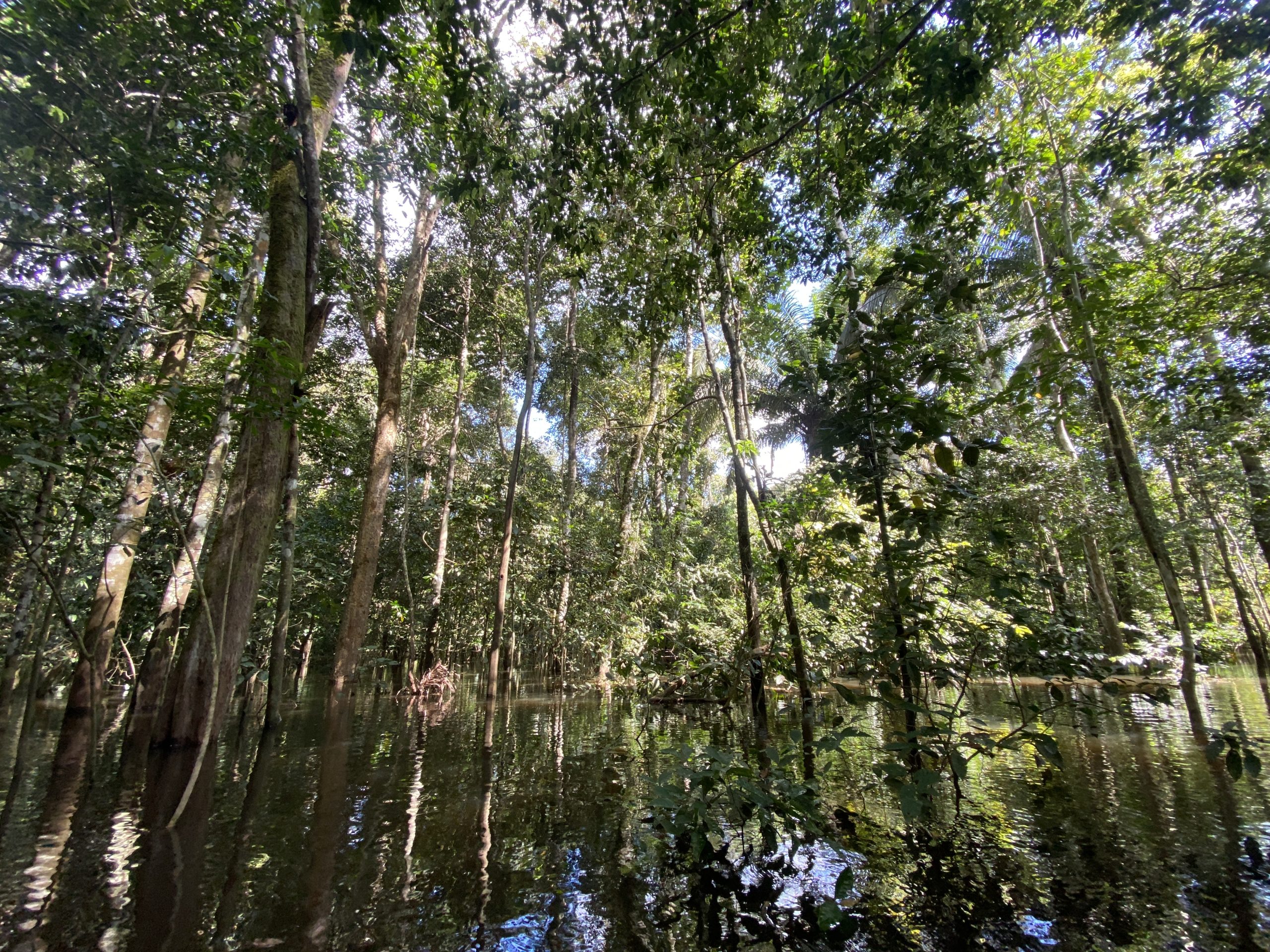 When you think of trees, you often associate them with providing oxygen, up-taking carbon dioxide (CO2) and playing a vital role in mitigating against global warming. Whilst all that is true, more recent discoveries have shown they emit methane (CH4), particularly in wetlands and peatlands across the world… 
Soils contain the largest pool of actively cycled carbon from on-land ecosystems1 and play an important role in carbon sequestration to counteract global warming. So far, when studying greenhouse gas (GHG) release from soil, much of the research has focussed primarily on CO2, but there is a growing importance to study methane. CH4 is the second most impactful anthropogenic GHG after CO22 and has a global warming potential 28 times greater than CO2 over a 100 year time period3.  
Wetlands cover 12.1 million km2 of the Earth's surface4, but they store huge quantities of carbon (535 Gt)5. They play a vital role in sequestering carbon but in forested wetlands, trees may be providing a pathway for this carbon to be emitted in the form of CH46. 
So far, scientists have discovered that trees emit more CH4 in tropical wetland forests than anywhere else in the world7, but the source of this methane is still undiscovered. This is where my study comes in… 
Research has shown that trees themselves have the ability to produce CH4 in their stems and bark but there is still question as to whether methane is also produced in the soil.  
My study aims to understand CH4 processes that occur below-ground and understand if any of the methane emitted from trees is sourced from soil, and if so, what factors affect this.  
My research will be focussed on the Brazilian Amazon rainforest which encounters yearly flood events that lasts up to 6 months and as a results, the rainforest become a huge wetland and releases vast quantities of methane. So for my recipe, I have chosen to honour the tasty fruit that grows on trees in Amazonia – the Acai fruit.  Pronounced 'ah-sigh-ee', this fruit is very difficult to get hold of in the UK, but well worth a try! 
Recipe: Acai Bowl​
Here is a recipe for a Acai bowl by Jessica Randhawa on The Forked Spoon. A super healthy dish, packed with flavour. 
Ingredients
1

 

banana

 - sliced and frozen

 

77.5

 

g

 

blueberries

 - frozen

 

½

 

cup

 

strawberries

 - frozen

 

122

 

g

 

milk or juice

 - use your favorite milk (dairy milk, soy, almond, etc) or juice (apple or grape)

 

½

 

cup

 

plain yogurt

 - (substitute with milk or juice if desired)

 

2

 

frozen acai puree

 - broken into pieces

 

1

 

teaspoon

 

assorted toppings

 - nuts, seeds, fresh fruit, granola, coconut, etc.

 
Method
Freeze your fruit

. Slice your banana and transfer it to a small baking sheet or plate lined with parchment paper. To the same plate, add the blueberries and strawberries (store-bought frozen fruit will work just as well). Transfer tray or plate to the freezer and allow fruit to freeze completely.

 

Blend

. Once frozen, add the milk and yogurt to the bowl of a large, high-speed blender with a tamper. Add the frozen blueberries, strawberries, banana, and broken up acai. With the blender on low, use the tamper to push the frozen fruit down, mixing around as much as possible. Continue to blend on low until smooth, only adding additional liquid when needed.

 

Assemble

. Divide the smoothie into two bowls and top with all your favourite toppings. Popular additions include sliced banana, nuts, seeds, granola, and berries. Best enjoyed immediately.

 
https://theforkedspoon.com/acai-bowl/
 Janzen, H. H. Carbon cycling in earth systems—a soil science perspective. Agric. Ecosyst. Environ. 104, 399–417 (2004).

Saunois, M. et al. The global methane budget 2000-2012. Earth Syst. Sci. Data 8, 697–751 (2016).

Myhre, G. et al. Anthropogenic and Natural Radiative Forcing. in Climate Change 2013: The Physical Science Basis. Contribution of Working Group I to the Fifth Assessment Report of the Intergovernmental Panel on Climate Change (eds. Jacob, D., Ravishankara, A. . & Shine, K.) (Cambridge University Press, 2013).

Gardner, R., Finlayson, M. & Davison, N. Global Wetland Outlook: State of the World's Wetlands and Their Services to People Improving water use for dry season agriculture by marginal and tenant farmers in the Eastern Gangetic Plains View project. https://www.researchgate.net/publication/328268867 (2018).

Zedler, J. B. & Kercher, S. Wetland resources: Status, trends, ecosystem services, and restorability. Annual Review of Environment and Resources vol. 30 39–74 (2005).

Jeffrey, L. C. et al. Isotopic evidence for axial tree stem methane oxidation within subtropical lowland forests. New Phytol. 230, 2200–2212 (2021).

Covey, K. R. & Megonigal, J. P. Methane production and emissions in trees and forests. New Phytol. 222, 35–51 (2019).
To celebrate World Soil Day on the 5th of December we have written a series of blogs that dig in (pun intended) to the many connections between soils and food. These blogs are inspired by our sustainable soils research at Lancaster and include a recipe that connects our soil research to the dinner plate! We are publishing a blog a day between 21st November and the 5th of December. We hope you enjoy digging into both our research stories and recommended recipes. Enjoy – bon appetit!