Nuclear Futures is the first of a new series of CSS events designed to support and encourage interdisciplinary early career STS work at Lancaster and beyond.
The event, organised jointly by PhD students from the Centre for Science Studies (CSS) and Material and Social Futures (MSF) programme, will bring together academics with other stakeholders to explore our past, current and future relationships with nuclear power in the North West of England. Particularly, we as organisers want to generate conversation to understand how we might depict nuclear power in non-traditional means, how we react to cultural artefacts about (nuclear) energy and what tools we might use to understand the radiological contamination situation if there is a future contamination event.
The event is funded and supported by the Centre for Science Studies and the Institute for Social Futures.
Aim: The aim is to engage a range of stakeholders, such as members of the public, academics, policy makers and emergency planners, to get a better understanding of the ways people might imagine and articulate socio-techno-scientific nuclear futures and to explore different perhaps unconventional ways of expressing this.
Format: Nuclear Futures centres on a one-day event in late October 2021, in which participants will take part in a creative exploration of radiation and nuclear power in and around Lancaster and Cumbria. The day will start and end at Lancaster University. We will pick up guests as we go along (if they are already based in Cumbria).
The day will include:
A look back at the history of radiation and nuclear power in the North West of England.
A tour to key areas in Cumbria associated with its nuclear history, present and future.
Engaging with participants' own perspectives on nuclear power, safety, radiation and its future.
Thinking about how actual or potential radiation contamination might or is made visible via radiation monitoring, numbers or other more qualitative means such as maps, creative writing, poetry or photography.
Working with Dr Philippa Holloway, creative writer with a specialist interest in the nuclear industry to produce our own artefacts.
All participants including the organisers will be part of the conversations and creative discussions and activities. No single voice will be prioritised and we hope that all participants will have something to share with the group during the day. Part of the day is about providing an opportunity for conversations that might otherwise not have a space to take place.
Nuclear Futures will culminate in the creation of various artefacts including, a radiation map, and other creative images and words on the topics of nuclear energy, radiation and contamination.
We will host an initial artefact presentation event in December on campus, ahead of the public display of some of the artefacts at The Storey in January 2022. We also intend to publish selected artefacts and discussions from the events on the CSS event webpage as a record of the event.
Key dates
28 October 2021 – Main event day
1 December 2021 – Nuclear Artefacts – Artefact presentation event at Lancaster University
14-28 January 2022 – Artefacts on display at The Storey in Lancaster City centre
The event team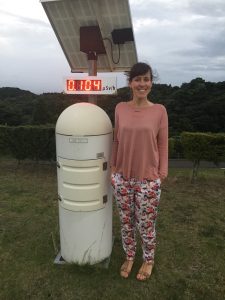 Louise Elstow (organiser)
Louise is a PhD student in the Department of Sociology and CSS member. Her research deals with the construction of scientific knowledge about radiation contamination. Using an ethnographic approach, and concepts from STS, she is investigating in how different individuals and groups are measuring, monitoring and mapping radiological contamination after the 2011 nuclear incident at Fukushima Dai-ichi in Japan. Louise has a BSc in German, Economics and Swedish, and has been working in emergency management since completing an MSc in Risk, Crisis and Disaster Management in 2008, including working at Sellafield from 2013-15. She is a bit obsessed by fixed radiation monitoring posts in Japan.
Email: l.elstow [at] lancaster.ac.uk
Maria Pantisdou (organiser)

Maria is a PhD student in the Department of Languages and Cultures. After completing her first set of studies in the UK, which included a BA (Hons) in English Literature, an MA in Translation and a Diploma in Interpreting, Maria worked as a teacher and an interpreter for over 10 years in Greece. Following the completion of an MA by research in English Literature at the University of Malta in 2017, she started a PhD programme at the department of Languages and Cultures at Lancaster University, and she is also a member of the Institute of Material and Social Futures cohort. Her research project, under the supervision of Dr. Emily Spiers, focuses on cultural narratives about energy materials in the geographical terrain of Lancashire.
Email: m.pantsidou [at] lancaster.ac.uk
Jade Li (organiser)
Jade is a Material Social Futures PhD student in the Department of Engineering. She completed her undergraduate studies at University College London, obtaining an MSci in Physics in 2019. Currently, she is performing computational studies under the supervision of Dr Samuel Murphy, specifically using simulations to gain insight into Advanced Technology Fuel (ATF) behaviour in reactors and to understand the role that fission products play in fuel characteristics. Alongside this, Jade is researching public understanding in and around the nuclear energy industry under the supervision of Dr Emily Spiers.
Email: j.li74 [at] lancaster.ac.uk
Dr Philippa Holloway (invited creative writer)

Philippa Holloway is a writer and academic currently based in Lancashire. Her short fiction/non-fiction is published on four continents and her debut novel, The Half-life of Snails, is due out with Parthian Books in Spring 2022. Her specialism is prose fiction, creative processes and nuclear psychogeography, and her PhD examined how landscapes with nuclear power stations inform creative practice. She has been commissioned for contributions to various interdisciplinary projects including Made From Light at Tate Liverpool, Power in The Land, Material Cultures of Energy and the resultant Energy Communication Toolkit (2021), and the Cognitive Sensations Project. She is Writer in Residence at Hack Green Nuclear Bunker and member of Liverpool University's Literature and Science Research Hub. She is the co-curator of 100 Words of Solitude, a global writing project responding to lockdowns, and co-editor of the collection 100 Words of Solitude: Global Voices in Lockdown 2020 (Rare Swan Press).
Twitter: @thejackdawspen
Dr. Petra Tjitske Kalshoven

As a cultural anthropologist with The University of Manchester since 2009, Petra Tjitske Kalshoven draws on a background that combines the Humanities and Social Sciences (M.A. Classical Languages and Cultures, Leiden University; Ph.D. Cultural Anthropology, McGill University) to explore skilled manifestations of human curiosity, simulation, play, and rhetoric.
As a member of The University of Manchester's social and nuclear research network The Beam since August 2017, Kalshoven pursues her interest in expertise, materials, and landscapes with an ethnography of nuclear decommissioning in West Cumbria, England. Practices of modelling and mimesis remain central foci: Kalshoven conceives of human life as a series of repetitions and rehearsals for things that never quite come to pass.
Prof. Paul Leonard

Paul Leonard worked in MAFF and Defra as a radiological scientist and continues to provide advice and emergency response training. In 1985 he began co-ordinating  monitoring programmes around major UK nuclear sites and when the Chernobyl accident contaminated the UK in 1986, he sent scientists to high deposition areas to monitor e.g. sheep and freshwater fish. He spent a period as a Nuclear Inspector in MAFF at Sellafield, Springfields, Capenhurst, Bradwell and Greenwich. Paul was the Advisory Group Chairperson for the NERC funded TREE project which included radioecological studies at Chernobyl. More recently he has worked on identifying restriction zones at major UK nuclear sites with the Office of Nuclear Regulation.
Nancy Lawton

Nancy has been a Nuclear Regulator with the Environment Agency, regulating different parts of Sellafield since 2005. She has a Chemistry degree and has previously worked for the Central Electricity Generating Board, the Ministry of Agriculture, Fisheries & Food, the Food Standards Agency and the Department of Trade & Industry. These roles have included: nuclear incident management arrangements and environmental impacts of radioactive discharges, including on the food chain. She is interested in sustainability and minimising her impact on the environment. Nancy is grew up in Seascale and after various jobs and homes elsewhere now lives just north of the Sellafield site.
Nikki Pugh

Nikki Pugh is an artist who explores interactions between people and place. A resident of Lancaster for the last two years it is now a running joke that Heysham Nuclear Power Station seemingly works its way into every scenic view.
As part of her art practice, Nikki works with physical computing to devise contraptions that extend our senses. She once won a T-shirt for her tutorial on how to make Geiger counter triggered fairy lights.
Dominic Harrison

Dominic is currently the Head of Emergency Response at Sellafield.  He is a former Chief Fire Officer and Corporate Director within Cumbria County Council.  Dominic is a Chartered Engineer with the Engineering Council, EC(UK), and a Member of the Institution of Fire Engineers. Dominic led on nuclear and radiation issues for the Chief Fire Officers Association (CFOA), representing the UK Fire and Rescue Service on HM Government's Nuclear Emergency Planning Delivery Committee (NEPDC), helping to ensure that UKPLC was prepared for a range of nuclear emergencies. Dominic has represented the local authority and fire and rescue service at a broad range of real and simulated emergencies including the Grayrigg train derailment, the Cumbrian floods of 2009 and the Sellafield Oscar exercises.

Agnieszka Dutkowska-Zuk
Agnieszka is an MSF PhD student in the Department of Languages and Cultures and the Lancaster Institute of the Contemporary Arts (LICA). She completed an MSc in Applied Behaviour Analysis from Bangor University, and an MA in Psychology from SWPS University in Warsaw and California State University Stanislaus. Before joining Lancaster University, she was an Independent Researcher in the Center for Information Technology Policy at Princeton University. Her PhD explores the future of infinite data storage and scenarios in which we will be able to store everything.
Julia Grime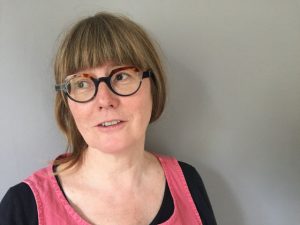 Julia is currently studying for a Masters in Environment, Culture and Society at Lancaster University. In the first half of her life, she worked as a theatre producer and film curator. She's interested in staging art events to explore matters of social justice and place. Her 2016-18 project, Out of the Black Box in Berlin, examined the role of theatre as a gateway for recent refugees and marginalised people to find social acknowledgement and define their space. Julia has recently moved to Morecambe Bay and Heysham Power Station has become a persistent part of her world.
Adrian Bull

Adrian has worked in, and with, the nuclear industry for almost 40 years. After 23 years with BNFL – the, then, operating company for Sellafield, he moved to Preston-based fuel and reactor company Westinghouse in 2006, and then to his role as External Relations Director for the National Nuclear Laboratory in 2012, where he is also the NNL Fellow in Stakeholder Engagement. Since moving part time in Jan 2021 also holds a part time role at the University of Manchester as Chair of Nuclear Energy and Society, in the nuclear-focused social science group, The Beam, looking at the inter-relationships between the nuclear industry and the communities which it impacts upon.
RL Wilson

RL Wilson is an artist with a live, durational, socially-embedded practice. Situating himself on a site or location for months and even years, Wilson unpicks the everyday and extraordinary aspects of a place and its people – with outcomes multiple and varied including sound art, live performance, radio, text, theatre, and the moving image – all firmly rooted in notions of both 'liveness' and permanence.
Wilson has previously worked nationally and internationally including at; Yorkshire Sculpture International, HOME, Manchester, V&A Museum, London, and Full of Noises, Art Gene, and Signal, in Barrow, Cumbria. He is also undertaking a practice-led PhD at  Northumbria uni, researching the role of Art within rural locations, with focus to the impact of tourism on the environment within places such as the lake district.
About the CSS
The Centre for Science Studies (CSS), founded in 1986, conducts key research in Science and Technology Studies (STS). The CSS promotes and facilitates interdisciplinary research across the boundaries of science, technology, and public policy. Nuclear Futures aims to address one of the four priority areas of CSS: Disasters and Technoscientific Futures, by engaging with radiation in an analytical and affective way.
About the MSF
Jade, Maria and Agnieszka are all PhD students in the Material Social Futures (MSF) programme, which is funded by the Leverhulme Trust and Lancaster University. The programme is co-directed by Professor Richard Harper, of the Institute for Social Futures, and Professor Rob Short, of the Materials Science Institute. The MSF trains PhDs to see how the material and the social intersect and how research in one of these dimensions can be infused by knowledge of the other.