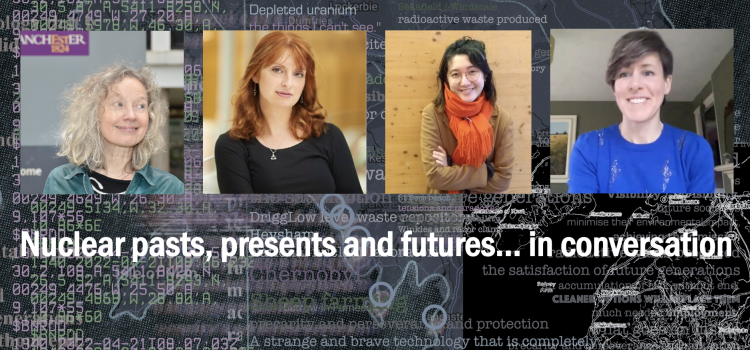 On Tuesday 3rd May the Nuclear Futures team hosted an online CSS event which marked the culmination of the Nuclear Futures series. The series also included an in-person workshop in 2021 and an exhibition held in Lancaster in April 2022.
The events were organised by Louise Elstow and Jade Li, both Lancaster PhD researchers with an interest in Nuclear things – for Louise it was how radiological contamination is made visible by scientific practices and devices, for Jade it is about the potential for safer nuclear fuels and cultural imaginaries of nuclear power.
At the 'In Conversation' event, Jade and Louise were joined by creative writer Dr Philippa Holloway, and by cultural anthropologist Dr Petra Tjitske Kalshoven. Together they presented, discussed and reflected on the collective outputs of the Nuclear Futures activities. Jade, Louise and Philippa shared a collective map, fusion poem and thoughts on the North West of England's relationship with nuclear things, all based on the discussions and input from Nuclear Futures participants. They then discussed the opportunities that thinking differently about the North West's relationship with nuclear could offer for the humanities and social sciences.
The Nuclear Futures project engaged with a range of stakeholders, including members of the public, artists, academics, policy makers and emergency planners, to think about the idea of nuclear things in the North West of England. A key aim was to get a better understanding of the ways people might imagine and articulate socio-techno-scientific nuclear futures and to explore different perhaps unconventional ways of expressing this.
A recording of the event is available below. We will also publish a short summary of 'Reflections of Nuclear Futures' in due course.
Nuclear Futures: In Conversation