Please browse our list of researchers below for more details about health-related research taking place in the arts, humanities and social sciences at Lancaster University. If you are a FASS researcher and would like your name to be included, please send a photo and brief overview of your research interests to s.wright9@lancaster.ac.uk.
Academic co-leads:
Professor Charlotte Baker, Professor of French and Critical Disability Studies
Charlotte Baker is Professor of French and Critical Disability Studies. Her research focuses on disability and stigma, particularly in sub-Saharan African contexts. She has published widely on the socio-cultural realities of living with albinism, cultural representations of albinism, and the human rights abuses against people with albinism.
Dr Sara Wasson, Reader in Gothic Studies
Sara Wasson is a literary and cultural studies scholar specialising in Gothic, science fiction, critical medical humanities, slow violence, and pain. She has published widely on chronic pain representation and transplantation studies, and she leads the AHRC-funded research network Translating Chronic Pain which aims to better represent chronic pain experience through flash writing. Her latest monograph is Transplantation Gothic, a shadow cultural history of fantasies of transfer under neoliberal capitalism.  
Dr Stephanie Wright, Lecturer in Modern European History
Stephanie is a historian of modern Spain, specialising in the histories of disability, psychiatry and sexuality during and after the Spanish Civil War. She is currently writing a book on the history of war disability after the Civil War, while working on her new research project on the use of forensic evidence in Spanish rape trials during the twentieth century.
Researchers by department:
English Literature and Creative Writing
Dr Liz Oakley-Brown, Senior Lecturer in English Literature
Liz teaches and researches premodern texts from twenty-first century perspectives. She  has published widely on early modern Ovid, bodies and embodiment. One of Liz's current projects — Embodying the Surface: Medical Humanities Before the Letter — considers premodern English writings' contributions to this modern field of enquiry.
Professor Sharon Ruston, Chair in Romanticism 
Professor Sharon Ruston is Chair in Romanticism and current Head of the English Literature and Creative Writing department at Lancaster University. She has published The Science of Life and Death in Frankenstein (2021), Creating Romanticism (2013), Romanticism: An Introduction (2010), and Shelley and Vitality (2005). She co-edited The Collected Letters of Sir Humphry Davy for Oxford University Press (2020), currently leads an AHRC-funded project to transcribe all of the Davy's notebooks (https://wp.lancs.ac.uk/davynotebooks/), and is a Co-I on the Wellcome project 'The Future of Human Reproduction' (https://wp.lancs.ac.uk/futureofhumanreproduction/).
Department of History
Dr Mark Hurst, Lecturer in the History of Human Rights
Mark is a historian of human rights whose research focuses on non-governmental organisations and activists during the Cold War, and more broadly in the history of dissent and political activism, especially in Russia and the Soviet Union. He has particular interests in the political abuse of psychiatry in the Soviet bloc, and the international efforts to campaign against it.
Rianna Price, PhD student in History
Rianna is a final year history PhD student and her thesis is on the medicalisation of queerness in post-Emergency India. She is interested in the legacy of colonial homophobia and psychiatric practices, as well as the contemporary socio-political status of homosexuality. Her work considers the interplay between medical discourse and social life, and how practitioners viewed their role in the therapeutic process. She also explores familial interventions in the medical and sexual lives of queer individuals and how this links to pathologised narratives.
Dr Alexander Wragge-Morley, Lecturer in the History of Science and Medicine
Alex Wragge-Morley works on the histories of science and medicine in the 17th and 18th centuries. At the moment, there are two strands in his research. First, he is working on a monograph about habit in eighteenth-century Britain. This project aims to reveal the role of medicalized ideas about bodily habits in key areas of eighteenth-century culture, from science and aesthetics to debates about the impact of disability on personhood. Second, he is launching an AHRC Networking project examining global, pre-modern ideas about the use of the arts in healthcare. Launching in September 2023, this project will bring together historians, neuroscientists, and healthcare practitioners in discussion about past approaches to the visual arts, literature, and music as means of healing.
Department of Languages and Cultures
Dr Benjamin Dalton, Lecturer in French Studies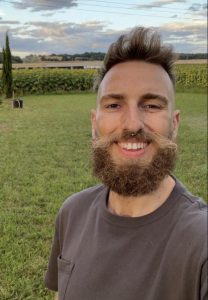 Benjamin Dalton is Lecturer in French Studies in the Department of Languages and Cultures at Lancaster. He has published widely on representations of biological 'plasticity', mutability, and transformation in the contemporary French philosopher Catherine Malabou and contemporary French cultural production. His new research project explores approaches to the hospital in contemporary philosophy. He is particularly interested in how philosophy can help us rethink and transform hospital architecture, proposing future clinical environments.
Dr Véronique Lane, Lecturer in French Studies and Comparative Literature
My current research project investigates the therapeutic value of the translation process for literary translators and NHS patients. My next monograph, which is under contract with Edinburgh University Press, offers a comparative analysis of works by seven modernist writers-translators who experienced mental health illness: Friedrich Hölderlin, Gérard de Nerval, Virginia Woolf, Marcel Proust, T.S. Eliot, Hilda Doolittle, and Antonin Artaud. It theorizes translation as a powerful form of introspection affecting the formation of creativity and identity.
Dr Samuel O'Donoghue, Lecturer in Spanish Studies
Samuel O'Donoghue is a Lecturer in Spanish Studies at Lancaster University. He specializes in contemporary peninsular Spanish literature both during and after the Franco dictatorship and works in the fields of trauma studies and memory studies. His research in the medical humanities includes publications on illness narratives, bibliotherapy, and metaphorical representations of pain.
Law School
Dr Thomas Webb, Senior Lecturer in Law 
I am an administrative lawyer interested in the processes for reviewing and legitimising the use of compulsory care under the Mental Health Act 1983.  My research focusses on the work of Hospital Manager Panels, and considers their history, reform, and functioning today.  I have previously made use of the Freedom of Information Act to gather data from NHS Trusts in England and Wales, and I am currently developing a project with colleagues that will engage with service users, panel members, clinicians and others around how Hospital Manager Panels operate.
Linguistics and English Language
Dr Dimitrinka Atanasova, Lecturer in Intercultural Communication
Dimitrinka Atanasova is Lecturer at the Department of Linguistics and English Language. She draws on theories and methods from applied linguistics, media & communication studies and sociology to research health & science communication (particularly around obesity, mental health, climate change, sustainability, nitrogen pollution) and developments in news journalism (currently, 'constructive' journalism). She focuses on the communication of health & science topics in various media (especially through culturally-embedded frames and metaphors) and how people discuss health & science topics using various media (and how their communicative practices may vary across cultures).  
Dr Luke Collins, Senior Research Associate
Dr Luke Collins is based in the ESRC Centre for Corpus Approach to Social Sciences, where he carries out research specifically on the language of various kinds of health communication. Using computer software tools to process and analyse large datasets for linguistic patterns, Dr Collins has completed work investigating interviews with people who hear voices, face-to-face interactions in Emergency Departments, media representations of obesity and of health treatments, as well as online support forums for anxiety disorders.
Professor Elena Semino, Professor of Linguistics and Verbal Art 
Elena Semino is Professor of Linguistics and Verbal Art in the Department of Linguistics and English Language at Lancaster University, and Director of the ESRC Centre for Corpus Approaches to Social Science. She is a Fellow of the UK's RSA and of the Academy of Social Sciences. She is Associate Editor of the journal Metaphor and Symbol. She specializes in health communication, medical humanities, corpus linguistics, stylistics, and metaphor theory and analysis. She is author of Metaphor in Discourse (Cambridge University Press, 2008) and lead author of Metaphor, Cancer and the End of Life: A Corpus-based Study (Routledge, 2018). She is Principal Investigator on the project 'Questioning Vaccination Discourse: A Corpus-based Study'.
Professor Uta Papen, Professor of Literacy Studies
Linguistic Landscape Conference Nr. 13, HamburgI am a Professor of Literacy Studies in the Department of Linguistics and English Language and Co-Director of the Lancaster Literacy Research Centre (http://wp.lancs.ac.uk/literacy-research-centre/). With a background in social anthropology, much of my research has and continues to look at reading and writing in the context of health and mental health, specifically from the patient's perspective. This includes looking at reading and writing practices to navigate health care systems and to make sense of illness. Recently, with colleagues, I have conducted a pilot study looking at how university students use creative literacy practices (e.g. poetry, blogging, journaling) to support their mental health and well-being.
Emma Putland is a researcher interested in different approaches to, and areas of, health communication. This includes working with participants with experiences of particular health conditions, conducting multimodal analyses of social texts, and corpus-assisted approaches, particularly in the (intersecting) areas of dementia, ageing and gender. She is currently part of the UKRI-funded project, '
Public Discourses of Dementia: Challenging stigma and promoting personhood
', led by 
Dr Gavin Brookes
. This role builds on her prior research exploring how different people affected by dementia might reiterate, challenge and reshape wider discourses surrounding the syndrome. Emma is also on the committee of the British Association for Applied Linguistics' 
Health and Science Communication Significant Interest Group
. 
Department of Politics, Philosophy and Religion
I am a philosopher interested in the self; in good and bad lives it might lead (aka welfare, well-being); in its reflexive powers and practices; in the roles of experience, reflection, and institutions in its development and success; and in how to do philosophy so as to advance our understanding of these issues. I am currently writing a book under the working title Subjects of Welfare, which is about the relations between philosophies of the self and philosophies of welfare, and makes use of speculative fiction about alien and artificial selves.
I am a philosopher of psychiatry who is interested in the metaphysical and epistemological status of psychiatric diagnoses. I have sought to portray them as idealised models that produce important generalisations but without describing actual people. I am also interested in the role of experts-by-experience in psychiatric research, aiming to understand how this relates to the abstract nature of science and the theory-laden nature of evidence. I also research the history of autism. I am myself autistic. I have done numerous jobs within PPR, including lecturer, post-doc and temporary lecturer.
Dr Garrath Williams, Senior Lecturer
I work in moral philosophy, applied ethics, and political theory, and have interests across bioethics and public health. I have worked on epidemiological and intervention projects on children's health (the IDEFICS and I.Family studies) – hence my co-authored book, Childhood Obesity: Ethical and Policy Issues. I've been involved in projects with colleagues at Lancaster on media representations of obesity and on co-designing ways to improve dialogue between people and organisations. I've also written on research ethics and epistemic (in)justice in medicine (https://garrathwilliams.weebly.com/garrath-williams-applied-ethics.html).