2021 Intellectual Party – online

This was a fast-paced online event with around 50 participants. This is a picture of some of the organising team, at the end of the party.
The winner of the three minute thesis competition was RekaTölg
The Grand Finale was hosted by Dr Stanley Blue and Dr Basil Germond, and featured two short films (6 miins each). One was of a seminar on Pr cat ice Theory at Lancaster, featuring Purr Bourdieu, Michel Foucat, Ted Catzki and poor Marcel Mouse. The other was a writing consultation between Joanne Wood and Charlotte (a PhD student potato).
These are fantastic films, well worth viewing for years to come.
2019 Intellectual Party
You can find a copy of the Final Programme if you want to get more of a sense of the event.
Photos from 2018 Intellectual Party
(Final Programme and Book of Abstracts for this event)
Photos from 2017 Intellectual Party
Photos from 2016 Intellectual Party
Check photos from Intellectual Party 2015:  intellectualparty2015-2
Photos from 2014 Intellectual Party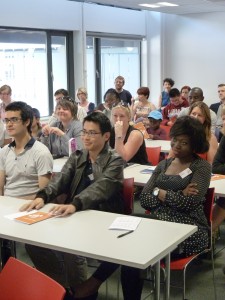 Pictures from Intellectual Party/Summer Conference 2013