Kay Johnson MBE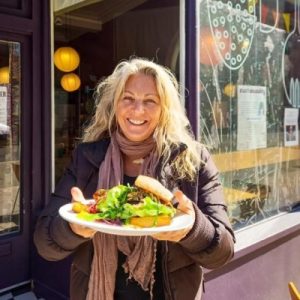 Kay is the Larders founder, and has worked for more than 20 years as a nutritionist managing food poverty initiatives nationally and overseas; she spent a brief spell as a chef and was brought up on a small farm in Lancashire.
Kay believes in Food Fairness For All and is currently doing a PhD which explores how fresh local produce can be made affordable to people on low incomes without farmers, producers, animals and the environment bearing the cost.
In 2015 Kay set up the Larder and based her work in Preston – The Larders Timeline.
About The Larder Lancashire
The Larder's strap line is 'food fairness for all'. We believe that everyone has a right to good food and our aim to to make fresh, local produce available to people on low incomes without farmers and producers bearing the cost.
We develop and deliver educational programmes which focus around the following priorities:
reducing food poverty
improving nutritional health
supporting the local economy, in particular farmers
benefiting the environment
As a social enterprise 100% of our profits are used to deliver food initiatives in disadvantaged communities for example our Kids in the Kitchen and Food Champion programmes.
Our café and outside catering business provides a high quality range of menu items made with sustainably sourced ingredients. We support local producers and most of our ingredients are sourced within a 30 mile radius of our café in Preston.
Reducing waste
According to the Food Ethics Council almost 30% of food that is grown for human consumption ends up wasted. We believe that with better planning this can be avoided, so we are careful to provide (the right) appropriate quantities of food in a way that as little as possible is wasted.
Our commitment to minimise food and food packaging waste
We offer a selection of artisan breads, cheeses, homemade pâtés, soup and salads as there is less wastage than sanwiches.
reducing food waste at every stage from ordering to serving on the plate
reducing food packaging waste by sourcing unwrapped food direct from growers' wherever possible and using recyclable or biodegradable wrapping materials
reducing single use plastic waste by providing washable crockery and cutlery
See here for further details.