In this post, Kelly Freeman (UCL) and Thomas Hughes (The Courtauld Institute of Art) discuss 'Ruskin's Ecology', the interdisciplinary seminar series and workshop delivered in collaboration with The Ruskin in the Spring.  These events have paved the way for a forthcoming book, Ruskin's Ecologies, and reflect The Ruskin's commitment to supporting the development and publication of new research.
Can Ruskin's ideas inspire new thinking in art history, material culture and environmental studies?  Our recent seminar series and workshop, 'Ruskin's Ecology', certainly suggests that it can.
This series was a collaborative undertaking. Working in partnership with The Ruskin, we brought together scholars and Ruskin enthusiasts from across the UK and from the US for an extended consideration of Ruskin's thinking about the relation between nature, society, art and architecture.
Over the course of three seminars and a workshop, we discussed and debated topics ranging from Ruskin's garden to pollution and climate change, and from organicism in art and architecture to interrelations between surface and depth.
Thomas brought both of these latter subjects to the fore in the paper he delivered at our first seminar, 'Surface, Depth and Form in Ruskin's Gothic Naturalism'. This paper placed a familiar subject in a new light by formulating an interpretation of Ruskin's ideas about the gothic through fleshy metaphor and organic analogy. Building on the work of Anuradha Chatterjee, Thomas explored the ecological relationship between architectural surface and depth by considering Ruskin's presentation of the 'wall veil' in The Stones of Venice as a kind of 'interpenetrative skin'.
Taking up Ruskin's notion of 'surface gothic', Thomas proceeded to consider how, for Ruskin, architectural surfaces become 'layers that thicken' and that, in thickening, interpenetrate within and beyond architecture itself. Such surfaces, as Thomas concluded, not only shape their environment, but also become an active part of the ecology of human existence.
John Ruskin, The Walls of Lucerne, c. 1866, Graphite pencil, watercolour and body colour on grey-green paper, 34.0 x 48.0 cm. The Ruskin, Lancaster University, 1996P1376.
Our second event was a workshop that featured talks by five invited speakers from Manchester, Cardiff, London and the US. Dr Pandora Syperek introduced many of the key themes of the session with her consideration of Ruskin's pedagogical aims at Oxford's Natural History Museum.
In a marvellous excavation of what could be called Ruskin's crystalline ecology, Pandora highlighted Ruskin's ideas about the bodily nature of stones (the smell and taste of crystals, with their 'shimmering, tactile and potential deliciousness') and she explored how, for Ruskin, such qualities presented a breaking down of the hierarchy of things.
Bringing us back above ground, Caroline Ikin (Manchester Metropolitan University) approached Ruskin's relationship with nature from the perspective of little-known archival material, including personal correspondence. Drawing on her doctoral research, Caroline put new spins on old questions with striking effect. Many of us were particularly intrigued to learn of a letter in which Ruskin discussed the practice of kissing flowers.
Caroline also considered Brantwood (Ruskin's Lake District home) as a site of ecological thinking and as the location for many of Ruskin's more profound environmental judgements.  She showed how Brantwood provided Ruskin with a home in which to 'nest' and 'rest' as well as a 'pasture' in which to lie down and 'become earth'.
Dr Rachel Dickinson (Manchester Metropolitan University) extended this line of thought in her paper, which proffered the significant observation that Ruskin was at the cutting edge of developing the concept of 'pollution'. Rachel drew particular attention to how Ruskin's reflections on pollution convey some of his deepest moral and environmental concerns.
From here, Professor Stephen Kite (Cardiff University) led us on a fascinating journey through some of the afterlives of Ruskin's ecological thinking about surface. Combining considerations of the works of Dante Gabriel Rossetti and William Morris, Professor Kite reminded us that the aesthetic – and indeed the architectural – are integral to Ruskin's legacy.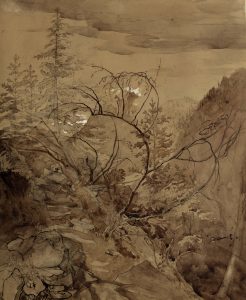 John Ruskin, Trees and Rocks, c. 1845. Pencil, ink, ink wash and body colour on paper, 33.5 x 27.5 cm. The Ruskin, Lancaster University, 1996P1566.
Midway through the workshop, all attendees were invited to participate in a group discussion of Ruskin's 'The Law of Help' (from Modern Painters).  This text is a crucial point of reference for any discussion of Ruskin's ideas about the interconnectedness of the environment, aesthetics and politics, and our discussion raised challenging questions that cut to the quick of Ruskin's concerns. Throughout our discussion, the Ruskinian ecological adage that in all things cooperation is life rang true, and there was plenty of progress made, new light shed and fresh perspectives shared.
Taking the time-honoured Ruskin Seminar slot, Dr Jeremy Melius (Tufts University) concluded our workshop with a keynote, 'Ruskin and the Art of Relations', which focused on Ruskin's reading of Veronese's Adoration of the Virgin by the Coccina Family (c. 1571).
Jeremy offered an eloquent exploration of Ruskin's practice of decoding political, aesthetic and indeed ecological meanings from pictorial composition. More than just providing insights into this crucial dimension of Ruskin's methods, Jeremy also helped us to appreciate the warmth of heart and cast of mind that informed so much of Ruskin's finest criticism.
A particular highlight of the evening was Jeremy's exposition of Ruskin's reading of the dog portrayed in Veronese's painting. Jeremy's commentary on this seemingly minor detail provoked laughter all the more for its profundity.
The series concluded with our third seminar at which Kelly delivered a paper entitled 'The Mountain's Anatomy: Articulating Skeletons in Ruskin's Ecological Imagination'.  This paper took us to the heart of Ruskin's ideas about the interconnectedness of nature, architecture and the human body by exploring the use of bone and skeleton metaphors in his works.
Ruskin's use of such metaphors, as Kelly showed, resonates in all sorts of interesting ways with wider conventions in architectural theory and practice – from Alberti to the Eiffell Tower. At the same time, however, Kelly revealed how Ruskin's osseous metaphors also depart from these conventions, spin wonderful, elaborate contradictions and seem to be doing a whole lot more.
It's been pointed out that ecology is not a word that Ruskin is known to have used.  Collectively, though, the participants in 'Ruskin's Ecology' have proven that Ruskin's ideas about the vital relations between art, architecture, society and nature are very much in keeping with the broader meaning that the word 'ecology' possesses today.
We are grateful to our speakers and to our attendees.  We were really pleased to have such a great turn-out at all of our events (despite the at times inclement weather), and it was terrific to have so many Ruskin devotees engage in the discussion.  Above all, we would like to thank Professor Sandra Kemp and Dr Chris Donaldson for allowing us to organise these events.
Below we include a list of suggested reading, though it omits one important publication: Ruskin's Ecologies, a collection of essays we are editing, which, when it comes out later this year, will stand as a monument to a memorable term of new thinking about the significance of Ruskin's ideas for some of the biggest questions now facing art and society.
Readings
Mark Frost, 'Reading Nature: John Ruskin, Environment and the Ecological Impulse' in Victorian Writers and the Environment: Ecocritical Perspectives, eds L. W. Mazzeno and R. D. Morrison (New York: Routledge-Cavendish, 2017), 13–28.
Lars Spuybroek, The Sympathy of Things: John Ruskin and the Ecology of Design (London: Bloomsbury, 2016).
Jesse Oak Taylor, 'Storm-Clouds on the Horizon: John Ruskin and the Emergence of Anthropogenic Climate Change', 19: Interdisciplinary Studies in the Long Nineteenth Century, 26 (2018) [doi: http://doi.org/10.16995/ntn.802].
Michael Wheeler ed., Ruskin and Environment: The Storm-Cloud of the Nineteenth Century (Manchester: Manchester University Press, 1995).
Author biographies
Dr Kelly Freeman completed her doctoral thesis 'Skeletons of Iron & Bone: Architecture and Display in the Nineteenth-century Museum of Natural History' at UCL in 2018. This project examined the dynamic relationship between the materials and metaphors of iron and bone in nineteenth-century Britain and France, as presented in the iron 'skeleton' architecture of certain museums of natural history and the skeletal specimens housed within them.
Dr Thomas Hughes is Associate Lecturer at The Courtauld Institute of Art. He is an art historian specialising in nineteenth-century British art and art writing. He completed his PhD at The Courtauld in 2018 on John Ruskin, Walter Pater and the art of the Aesthetic Movement, and he is currently transforming his thesis into a book called Curious Beauty.