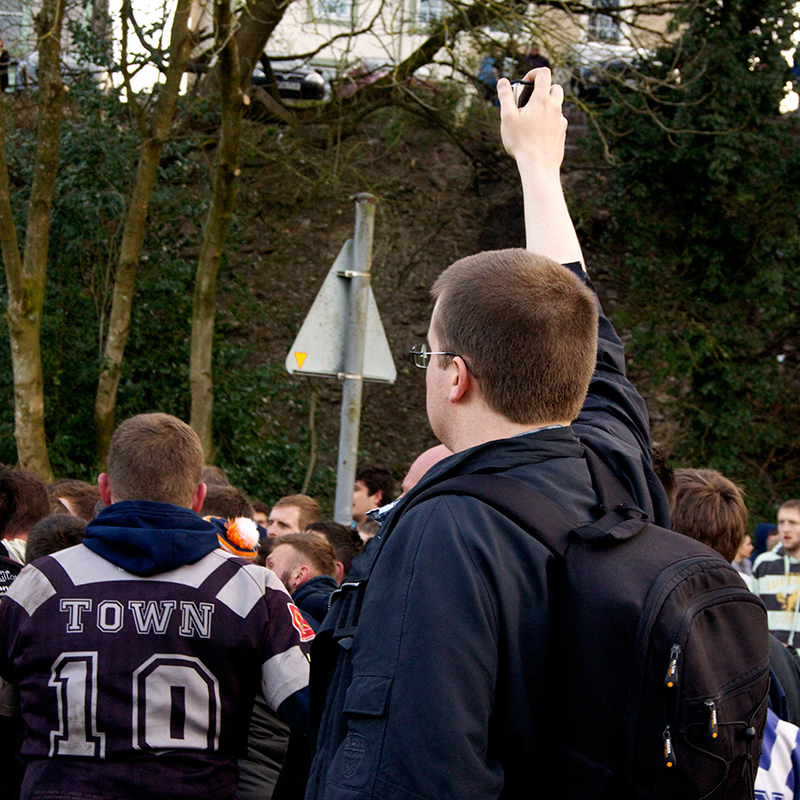 A small team from the mobilities.lab experiment (Jen Southern) and Edinburgh University (Chris Speed, Anais Moisy & Chris Barker) tracked, filmed and photographed the Uppies and Downies mass football game in Workington on Tuesday 7th April. Our main goal was to track 6 of the players with GPS watches (Garmin forerunner 15 and polar m300). The tracking is part of a project with the National Football Museum in Manchester, and will be exhibited in the museum in May. We had to gaffer tape the watches to people's ankles as it was the only way to keep them away from the intense action.
Where we could get 50m between us and people we used a drone to capture the way the game traveled over the terrain, and then a handheld GoPro camera to get as close to the action as possible. Although this looks like a fight, its actually just a big scrum around a ball moving slowly through the town. The small size of the GoPro camera meant that Chris could be agile and get the camera higher up above the players to see more of the action. In the video we captured lots of signalling between players, the feel of surges of movement to and fro, and the visceral intensity of the game. (Images by Anais Moisy and Chris Barker, researchers from Edinburgh University).
This image is of the 5 GPS tracks as the players move together in fits and starts across the town, through small streams, underbridges, past the police station, and finally up to Curwen Hall where the game was won by the uppies.