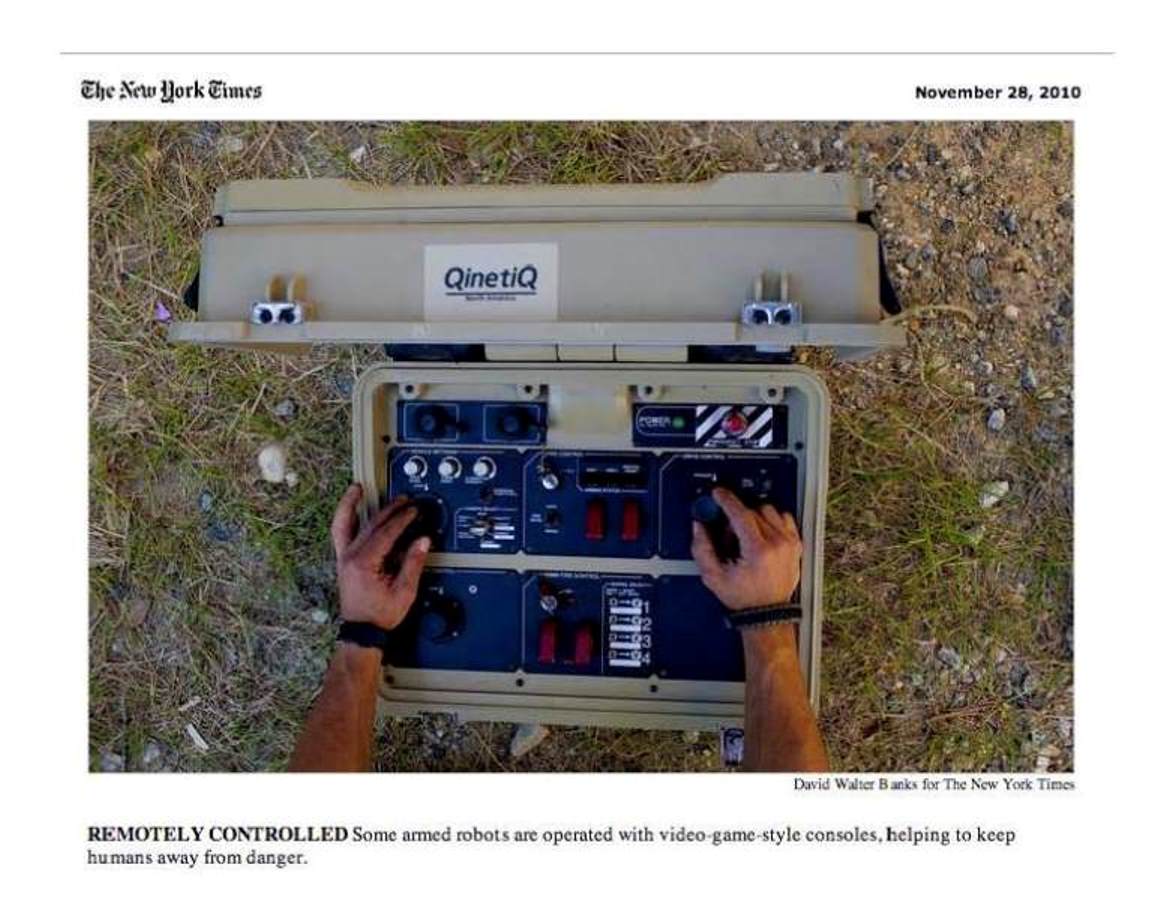 Security by Remote Control:
Automation and Autonomy in Robot Weapon Systems
22-23 May 2014
Lancaster University, UK
Symposium co-sponsored by Security Lancaster, the Lancaster Centre for Science Studies
and the Centre for International Law and Human Rights
Lancaster University, UK
Despite investment in new technologies, the legitimacy and efficacy of actions taken in the name of security is increasingly in question. In April of 2013 a coalition led by Human Rights Watch initiated a campaign in favour of a legally binding prohibition on the development, production and use of fully autonomous weapon systems.  While the line that can be drawn under lethal autonomy in weapon systems is clear, this symposium explores the wider field of remote control, and the acts of identification and judgement on which the legal use of lethal force relies.  We look at the context in which remotely controlled weapons are currently deployed, the grounds for target identification (done by humans or machines), and the ways in which even highly automated systems with humans in the loop might be increasingly problematic.  This directs us to the troubling space between automation and autonomy, to understand more deeply their intimate relations, and the inherent contradictions that conjoin them.
SPEAKERS:
Patrick Crogan, Senior Lecturer in Film Studies at the University of the West of England in Bristol, scholar of technoculture, author of Gameplay Mode: War, Simulation, and Technoculture (2011).
Derek Gregory, Peter Wall Distinguished Professor and Professor of Geography at the University of British Columbia in Vancouver, author of multiple works interrogating social and spatial dimensions of conflict, currently completing a book titled The Everywhere War (forth).
M. Shane Riza, command pilot and former instructor at the U.S. Air Force Weapons School, author of Killing Without Heart. Limits on Robotic Warfare in an Age of Persistent Conflict (2013).
Jutta Weber, Professor of Media Studies, University of Paderborn; feminist philosopher, media theorist and science and technology studies scholar.
Christiane Wilke, Associate Professor in Law and Legal Studies at Carleton University, Canada. She has been researching legal responses to state violence and is working on a project about visuality, photography, and international law.