As an MSc student in Information Technology, Management and Organisational Change (ITMOC), I got to explore several modules which related to technology and business. I also have the opportunity to choose optional modules based on my interest. For me personally, I am really interested in online marketing and innovation in IT to create better solution in business, and the module which answered my question for this is E-Marketing module.
Though this module is optional for ITMOC student, it is a mandatory module for MSc E-Business and Innovation student. Some Marketing Analytics students also took this class as an optional module, thus it is an amazing opportunity for me to know various insights about E-Marketing from students from different background. One of the most interesting parts about the class was the opportunity for students to join Innovation Hackathon, an intensive 2-day program where we had to solve a real-life business case with the opportunity to consult with and present to experts in the industry! The hackathon was held in March, I know it is a bit late for me to share the story here. Yet, I believe that the experience was really worth it and I might say that I learned a lot during the program. Hackathon itself is a word created from hack and marathon, an event where people work together and use technology to transform ideas into reality. We tried to solve the problem with the use of technology and the teams consisted of students from various background (IT, business, marketing, etc.).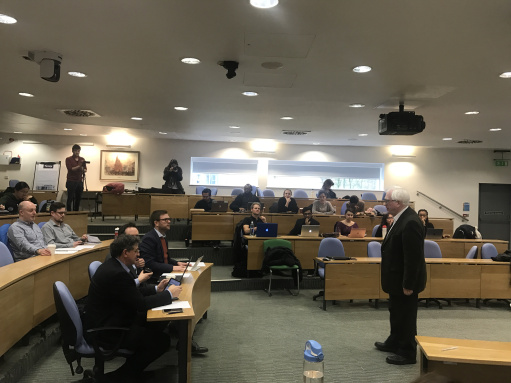 The theme of the hackathon was Smart Park, where we had to create an IoT solution for the Lake District National Park. IoT stands for Internet of Things, a technology which optimises connected devices with the use of sensors to collect and exchange data. One of example of IoT is Smart Cities with connected traffic signals that monitor utility use or smart bins that signal when they need to be emptied. Smartwatches or fitness bands to track steps or heartbeat while on a run for healthcare needs are also part of IoT technology.
During the hackathon, we had to propose the solution on how to make Lake District National Park… a Smart Park. Things that we need to remember was to create a simple, feasible and profitable solution while at the same time can give business values in a long run. All teams can explore the opportunity to solve the problem from various point-of-view. During the program, experts from IBM, Huawei and from Lake District will provide us with input throughout our brainstorming session. I might say that the program was superrrr intensive and stressful! We had to work with people from various background, listened to everyone's opinion and we also need to satisfy business needs from the stakeholders in only 2 days!
At the end of the 2-days session, all 6 teams which participated in the hackathon needs to present the solution in front of the stakeholders. My team offered a solution to prevent and monitor erosion in Lake District National Park, we named it Smart Path.  This solution came up after we realised that Lake District needs to spent a lot of budget to maintain eroded path and it also can lead to damage and habitat loss. We offered a solution of IoT implementation to monitor and detect activities on the footpath and analytics will provide data about preventative steps to maintain footpath/recommendation on maintenance. After the presentation, we got some inputs from the experts and we believe it was really helpful.
To close the hackathon, the experts chose the winner. My team did not win the competition but the most important thing is that we learned a lot and got the opportunity to work in a challenging case 🙂 The team who won offered Smart Bicycle Path, a B2B solution which track bicycle movements around the park and then analyse the data to be sold to another business (i.e restaurants, insurance, etc.). On the other hand, the data also can be used by Lake District National Park to maintain and improve customers experience in the park.
Congrats for the winner!
The 2-days session was full of pressure and stress, but with the help from teammate and the experts we can delivered the result on time. Special thanks for Professor Juliana Sutanto (E-Marketing Course Convenor and MSc E-Business and Innovation) and Professor Edward Truch for the support. And of course thank you Lancaster University for the opportunity!
All Participants for Smart Park Hackathon