Lancaster Words 'With Muldoon' event, 7th July
"This poem is not about cows" – How to capture the poem at short notice
Out in the open
And victim to the ocean breeze                             

The washed up Jellyfish gleamed
With a crystal clarity
A spectrum of colours

From 'Untitled' by Ethan Connell
I've told you,
Water always ripples in
Even numbers
It counts the opening and
Closing of gills like doors.

From 'Neptune, God of Creation' by Natalie Perman

Sarah Corbett, published poet and Lancaster University Creative Writing lecturer, kicked off the poetry session off by asking the room what they thought of poetry. Responses were varied on both days, ranging from 'I love finding their hidden meanings' to 'I hate poetry'.It might surprise you to know that the evocative lines above were penned in just two hours. What's more, some of the students in Sarah Corbett's poetry workshop initially said they didn't know how to write poetry. As you can see, we quickly managed to prove them wrong. Here's how.
On the 6th and 7th of July, we invited A-level students from across Lancashire to join us for a day of literary workshops. Participants got to try their hand at drama, poetry, literary criticism and literary journalism. At the end of each day, the workshops reconvened to show off the fruits of their labours in a talent showcase, conducted whisperingly by our very own Paul Muldoon (Visiting Professor and Pulitzer Prize winning Irish poet).
    . . . Poetry often seems too far away, but it isn't . . .

Sarah was keen to dispel the notion that poetry is for most people somehow out of reach. So to get things going, we had a look at some of Paul Muldoon's. 'Hedgehog' from New Weather, published when he himself was 21, prompted some insightful comments about its religious imagery. There was also a group consensus that, though open to interpretation, this poem is probably not about cows.
     . . . Try to keep your pens moving . . .
Sometimes, the best way to write is simply to start writing, and (just as important) not to stop. Using Muldoon's poems as writing prompts, the group set off. After ten minutes of furious scribbling, everyone had the beginnings of a poem in paper and ink. A few rounds of paired feedback and some speedy redrafting later, and everyone's drafts were looking a lot less draft-like. In fact, every single student produced something that was unique, and a pleasure to listen to.

. . . There are no rules . . . Write whatever you want to write . . .
The poems above were just the tip of the iceberg. We also had a powerful monologue to a 'little mouse'; a swooping poetic camera view of a miniature back yard world; a multisensory childhood fire building adventure; and a lilting visit to a dreamy musical theatre stage. A few of these made an appearance at the closing showcase, alongside a very stealthily included Brave New World reference (a poem called 'The Feelies') in response to Muldoon's 'The Weepies'. Whether carried on stage or tucked into audience backpacks, everyone's work was writing to be proud of.
Hopefully, what they took away from this is that creativity doesn't have to involve tapping your foot waiting for the muse to arrive. If a pen is in arm's reach, so is poetry.
Lancaster Words 'In Conversation with Ian Martin' event, 7th July
'The Thick of It' writer Ian Martin describes his creative process and the fate of his Architectural Dachshund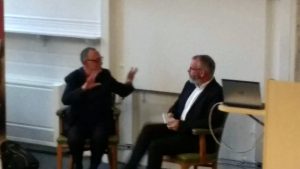 'Well you tell me, you tell me if there's a difference', said Martin when asked about writing screenplays vs. writing journalism. One of his many attempts to turn the conversation on its head, firing good natured follow up questions at interviewer Daragh Carville. An appreciative audience got to listen in as they covered everything from the craft of writing to famous outbursts of swearing (some of them fictional).
The two writers sat down for Lancaster Words at the Storey Institute creative hub on the 7th July. Ian Martin is an Emmy winning comedy writer, known for his role as 'swearing consultant' on BBC series 'The Thick of It', as well as for a weekly column in the 'The Architects' Journal'. Approaching the craft from a slightly different angle, Daragh Carville is an award-winning screenwriter and playwright who also teaches the craft at Birkbeck, University of London.
[For family friendly blogging purposes, any profanity has been seamlessly and invisibly edited]
Do you use a different part of your brain to write a column than to write a script?
"It's kind of the same thing though, I mean you know yourself you write and you teach. You're teaching the discipline that you use as a writer so you tell me, but what are you teaching in the end, patience, curiosity, self-examination, self-loathing, narcissism? That's writing in a nutshell!"
Well as a writer myself I have to work quite hard on the structural side, character lines and cornerstones, because actually what I like to do is sit down and kind of splurge, but you can't just splurge page after page after page without some kind of shaping story structural instinct, can you?
"The great law of a novel, or the first duty of a journalist, what the [Bauhau] is that, well the first thing you learn as a journalist, ladies and gentlemen, is the first law of journalism. You would think that would be some Hippocratic oath about the pursuit of truth in a civic cause but it's not. The first law of journalism is the same as the first law of screenwriting, fill the [Bauhau-ing] space, and that's it essentially, it's a task you have to complete, and I'm happy to shackle myself to that kind of mundane, the deadline, the wordcount, I like it, otherwise you are just splurging and you get nowhere."
"Having said that, I'm working on this thing set in the late 19th century in London, about this guy who invented tabloid journalism, he's this messianic figure, really interesting and oh my god the warm up process of 'we need an outline, we need a scene by scene' was doing my head in. In the end it fell to me to do the scene by scene and I just couldn't bear it any longer, I had to get him on his feet and into 3D just to see what he sounded like."

I'm struggling to imagine architectural satire, how much funny can you extract from a church etc.?  (audience question)
"Well it's funny you should say that, can I draw your attention to this BOOK! (Epic Space) Since this is a festival of literature."
"I have an architectural dachshund called Bauhau…who I've just killed off."

Why did you keep writing for 'The Architects' Journal'?
"It's seen me through three recessions now, you know when everything else dried up, left with just this column and a house pay for, wife to support. It saved my bacon."

We're going to have a look at a clip now, and, yes I can see the audience recognise the scene.
( 'The Thick of It: The Rise of the Nutters' special, featuring the infamous line "You were like a sweaty octopus trying to unhook a bra!" )
Watch the clip here: https://youtu.be/GV_SaxVgY5o
"Shall I tell you? It was 2006, we needed additional material, so there I was, cancer, lumber puncture, really embarrassing bug, in agony, lying down hardly able to move my head left and right, typing away for that special and sending it over. And to send it, I had to carry it through to the next room on a thumb drive, it was like the [Bauhau-ing] 19th century."

Are you fed up or proud that people are saying, with the all the topsy-turvy politics of 2016 and 2017, its just like 'The Thick of It'? (audience question)
"Oh the second one, definitely the second one. Yeah I'm proud that people use it as that kind of shorthand."

So your upcoming writing project 'Death of Stalin'. What's that about?
"The fall of Stalin, and politically, 1953 Moscow political failings seem weirdly familiar, kind of like 2016."
"It's a very tonally ambitious film. It's 1953, the great terror, there's torture, there's arrests, it's [Bauhau-ing] grim, but then you've got Steve Buscemi playing Nikita Krushchev and it goes a bit slap stick."
Lancaster Words 'MA New Writers Showcase' event, 7th July
Lancaster Words New Writers Showcase – An Audience Perspective
What are you to do when you get a hankering for sci-fi trains, suffragettes and scouse slang poetry (oh my) all in one evening? Your only option is to seek out writers, wherever they may have gathered. I'm reliably informed that their collective term is a 'showcase'. On the second action packed day of Lancaster Words I had the pleasure of watching writers from the MA Creative Writing programme at Lancaster University perform some of their work.
Not knowing quite what to expect, I arrived to find a relaxed cabaret set up, where the most exuberant table was (appropriately) the writers themselves. The atmosphere was an emotional one for the writers presenting their hard work, and for the friends, relatives and tutors who came to support them. This was in fact a special showcase, not just because it shared in the festival, but because this was the last year of the Creative Writing MA in its current format: onto bigger and better literary flourishes in the future.
As proud tutor Zoe Lambert told us, the MA is a unique space for writers to develop their work in a 'supportive though rigorous academic environment'. The course is one of the longest established in the UK, with expert teaching staff proficient and published in a wide range of genres and forms. The annual showcase is a celebration of the variety and quality of work produced on the course: to quote Lambert again, 'everyone's gone their own crazy way, and it's been great!'

The Writers, from left to right

Betty . . . boldly took the stage to read selected poems. One of them was based on the phrase 'when life gives you lemons', and on Beyonce's 'Let's be Honest'. She, memorably, read from a poem written in entirely in scouse slang!
Dean . . . was the first act of the night, taking up the microphone to introduce part of his science fiction project. Dean gave an impassioned performance, painting the scene of catastrophe on a futuristic train. Perhaps more horrifying than disaster and the swarming 'telepods', Dean's prediction of Northern Rail's continued future existence.
Ben . . . read from three short stories, featuring dark comedy, a reimagined fairytale adventure, and a Mafioso who 'owns all the puppies' utterly weirded out by the idea of putting a horse's head in someone's bed.
Dr Zoe Lambert . . . is a published author, like all of Lancaster's Creative Writing staff, though she didn't read on this occasion.
Anna . . . managed to reduce the audience to complete silence with a form bending poetic/rap monologue. Anna addressed the Grenfell tragedy with a directness that leaves me struggling to find the right words. There were audience members noticeably trying not to breath too loudly by the end.
Amber . . . from Malta skilfully narrated an atmospheric story, enigmatically called 'The Kingdom'. Shout out for keeping her cool as a performer when the microphone decided to interject with a loud boom and stop working.
Sue . . . gave a fantastic reading of part of her historical novel, in which the POV character realises her calling to join the suffragettes. She even did an appropriate accent, getting a few good laughs for lines like, 'the two rozzers looking at me the way a donkey looks at a carrot on a fishing line'.
Charlotte . . . from America based part of her prose project on the legend of the Alaskan Kooshdakhaa, or 'otter people'. One of which, shapeshifting into an old flame, steps into the light of the protagonist's campfire circle with uncanny effect.
Dr George Green . . . is also a published author, and lectures on the Creative Writing courses.