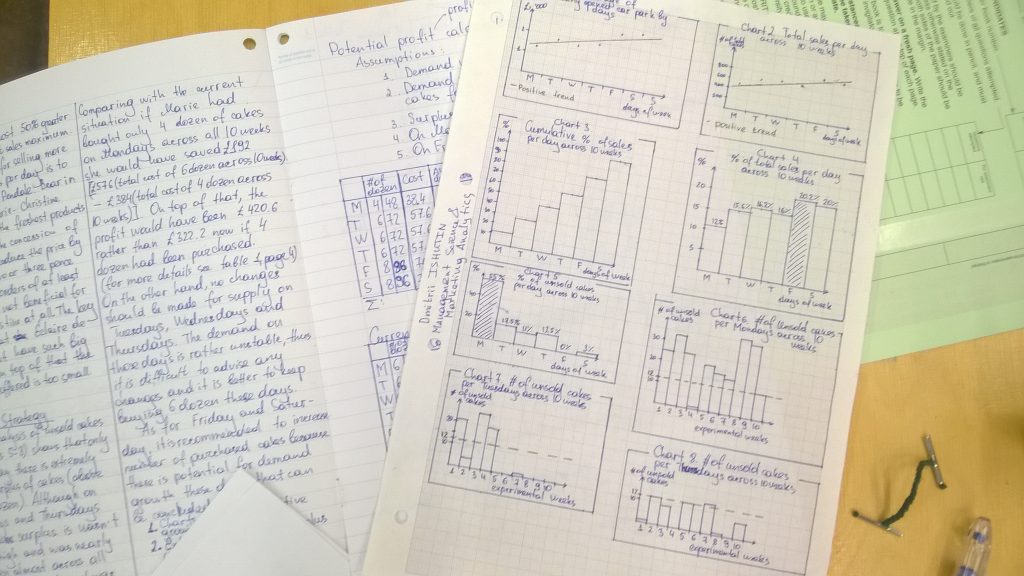 For master students summer is literally the hottest period in a year – this is the time of writing a dissertation. What is it like in Management Science department? Are there any guidelines and tips to perform well? What are the client-based and research-based projects? These are the topics to be discussed in this post.
Projects allocation
Studying in Management Science department requires you to show good academic records, regular and on time attendance, confidence in English, great interpersonal skills and motivation. These features will contribute towards your success in getting summer project of your interest. University outsources around 50 client-based projects with such famous brands as Lego, GfK, Johnson & Johnson, Jaguar Land Rover, etc. All projects are being presented on a particular day in the beginning of May. Based on what they've heard, students compose a list of 7 prioritised projects and submit it to a programme director. Cover letter might be attached as well. Then, the programme director allocates projects to students taking into account those features mentioned in the beginning of this section.
Students should understand that client-based projects imply a lot of responsibility. This is a chance to shine and demonstrate analytical skills you've learned throughout the year, negotiate with different stakeholders , mitigate risks and maintain information flow between yourself, your manager from the company and your supervisor from Lancaster. Literally, it's a kind of consultancy experience, so be ready to move to another city in England.
Apart from the client-based projects, there are some research-based projects, most of which are located in Lancaster. This work is more academic and probably would be a cup of tea for prospective PhD students.
If by any reason you don't want to work on a project in England, you can find one on your own. It can be located anywhere in the world, however you'll have to discuss it in advance with your supervisor and programme director. So, as you can see it's all quite flexible.
Tips and hints
Start early. Seriously, start as soon as possible. You might think that you have 3 months ahead, but this is just an illusion as time passes by really fast! The earlier you start, the better for yourself.
Read articles. Read at least 2-3 articles per week, and simple mathematics proves (3 articles * 4 weeks * 3 months = 36) that by the end of the day your reference list will have looked impressive. Well, I'm joking. It's not about how many references you have, it's about the quality of your paper. Properly chosen articles contribute towards better understanding of an issue, thoroughness of approaches used and level of detail in your work. Client will be pleased.
Keep a diary. It would be better if your diary was an electronic document, which eventually could become your final dissertation. Keeping record of what you've been doing will prevent you from forgetting important pieces of information. This habit will also help you structure your thoughts and re-consider your work.
Be fair. If you face difficulty, don't be afraid of telling it to either your manager or supervisor. They are here to help, and without knowing the matter they won't be able to do so.
Rely on yourself. Although both Lancaster University and clients are supportive, this is entirely your project and the result depends only on you! Use your initiative, try to solve issues, stay confident and pro-active. If you don't know something – google it, read papers. If you find yourself stuck, move some steps back and start over in another direction.
The world is your oyster, as well as your dissertation. Wish you good luck! Just do it.