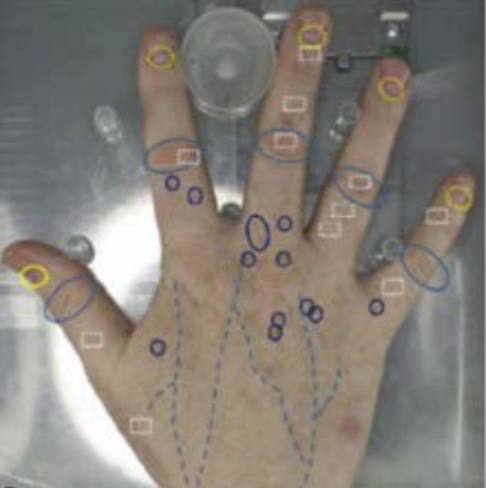 The H-Unique team are urgently seeking volunteers to contribute photos of their hands to enable us to complete our high quality control dataset, photographed at Infolab21 (room C36).  Volunteering is anonymous and only takes a few minutes of your time.
Many of you will already be familiar with the project but for those of you who are not, we are building the world's largest research database of hand images to enable us to investigate and quantify variability in the visible anatomical features of the human hand.
Every human hand has a unique combination of visible features including vein patterns, knuckle creases, scarring and pigmentation patterns.
These features have been used to identify offenders in child sexual abuse images – who often hide their faces but not their hands
Only a few forensic experts can analyse these features, limiting how many cases can be solved and offenders brought to justice.
The H-Unique Project has the following aims:
· To identify which combinations of hand features form the most unique identifying biometrics
· To train computers to analyse features of hands in images which will ultimately allow many more cases to be investigated and reduce the need for investigators to be exposed to such images
Please help us by booking an appointment to have your hands photographed. We need as many people as possible to contribute from all age groups, genders and ethnic backgrounds.
Anyone aged 18 or over can contribute, all contributions are anonymous, are only accessible to the research team and not shared with any external agencies.
It only takes a few minutes to complete the contribution.
If you have already contributed via our webapp using your phone, you can still contribute to this set but only if you have your original reference code so we can match the two contributions.
More detailed information about the project can be found on this site, if you have any queries, please contact us.