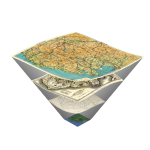 Lancaster University, Lancaster, UK
20-21st Sept 2018
Following the success of Spatial Humanities 2016, we are delighted to announce a new conference in this series for 2018. Spatial Humanities 2018 is concerned with exploring what geospatial technologies such as Geographical Information Systems (GIS) have to contribute to humanities research.  The main aim is to explore and demonstrate the contributions to knowledge enabled by these technologies, approaches and methods within and beyond the digital humanities.   Non-speaking participants who are keen to learn what is happening in the field are also welcome.
Practicalities:
David Bodenhamer, The Polis Center, Indiana University-Purdue University, Indianapolis (IUPUI)
Patricia  Murrieta-Flores, Digital Humanities Hub, Lancaster University
Timeline:
Deadline for abstracts:  28th Feb 2018 – Now closed
Notification of acceptance:  29th March 2018.
The conference: 20-21st September 2018.
Venue:  Lancaster University is easily accessible from Manchester or Liverpool Airports, the main West Coast railway line, and the M6 motorway.  Direct trains from Manchester Airport take a little over an hour, trains from London take around two and a half hours.  Click here for more information.
Costs:  Full registration including teas & coffees and lunch on both days will cost £195 with a £95 student rate.  Day rates are £110 (full) and £55 (student) respectively.  Accommodation is available in the university and the city and should be booked separately once papers have been accepted.
A downloadable conference flyer is available
Contact details for informal enquiries:  spatialhum@lancaster.ac.uk